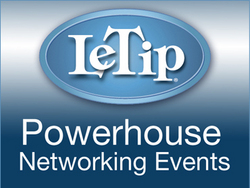 LeTip members are known for their professionalism
Los Angeles, CA (Vocus) June 23, 2010
LeTip International will host two Power Networking Events in early July for the Los Angeles, Inland Empire, San Diego and Orange County regions. These LeTip signature events gather members and chapters throughout Southern California to connect, inspire and network. The program, which includes breakfast, begins with registration and networking at 6:31am, followed by a full agenda from 7:01am to 10:01am.
The events will be presented by LeTip International's President and CEO, Kim Marie Branch-Pettid, a powerhouse of networking knowledge, and Regional Directors, Brad Burch, Ana Vega and Ben Cotton.
The agenda will focus on awards for outstanding members and chapters, and enable members and guests to network with power partners and business peers to harness the power of building positive and rewarding business relationships. Ana Vega, Regional Director from San Diego noted, "It's going to be a fantastic networking opportunity, with lots happening... exactly what LeTip members love!"
"LeTip Powerhouse Events provide the ideal, professional business leads platform for both members and non-members—professionals, business leaders and business owners—to network with the best of the best," said Brad Burch, LeTip's Regional Director for Los Angeles and Orange Counties.
"LeTip members are known for their professionalism," stated Ben Cotton, Regional Director of the Inland Empire. "We are extremely happy to have the opportunity to recognize so many outstanding members and chapters during these events."
Non-member business professionals, and entrepreneurs are also invited to attend so they can experience how word-of-mouth referrals are generated through membership in LeTip.
Networking event flyers are available for download from the LeTip website.
Los Angeles Powerhouse Event:
Monday, July 12th, 2010
Registration & Networking: 6:31am to 7:01am
Program 7:01am to 10:01am
Radisson Los Angeles Westside Hotel
6161 West Centinela Avenue
Culver City, CA 90230
Anaheim Powerhouse Event:
Tuesday, July 13, 2010
Registration & Networking: 6:31am to 7:01am
Program 7:01am to 10:01am
Embassy Suites Anaheim South
11767 Harbor Blvd.
Garden Grove, CA 92840
For more information or reservations, call Brad Burch, Regional Director at (800) 535-3847.
$30/Members, $35/Guests, if prepaid by June 30, 2010, $40 at the door
$1,500/Sponsors • $100/Showboat Tables
Check & Credit Cards accepted
About LeTip International:
LeTip International, headquartered in Mesa, AZ, is the world's largest, privately owned, professional business leads organization. Since 1978, LeTip programs have helped over 60,000 members, throughout the United States and Canada, build business success through personal referrals. The Guiding Principle of LeTip International is to intentionally help one another prosper through mutually beneficial relationships, and thus create an economy that rewards everyone.
LeTip International's structured program set the standard in the word-of-mouth referral industry. Members are known for their professionalism, dedication, and loyalty to one another. LeTip Chapters meet weekly to exchange qualified leads, build solid business relationships, develop strong presentation skills and become proficient networkers. Only one representative of any given profession is accepted into a chapter, and members are chosen for their occupational expertise.
For more information, visit http://www.letip.com.
###