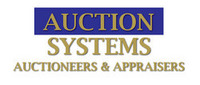 This business liquidation auction will feature the entire contents of Zwirl Yogurt Shop and should provide individuals and businesses the opportunity to get a great price on a quality product
Phoenix, AZ (Vocus) September 23, 2010
Auction Systems Auctioneers & Appraisers Inc. will host an online business liquidation auction featuring items from a local yogurt shop on Monday, September 27, 2010.
"This business liquidation auction will feature the entire contents of Zwirl Yogurt Shop and should provide individuals and businesses the opportunity to get a great price on a quality product," said Deb Weidenhamer, CEO of Auction Systems. "Interested parties should visit the Auction Systems' Web site to preview auction items and bid online."
Items of interest at the business liquidation auction include: Taylor soft serve freezer yogurt machines, furniture including bistro tables and chairs, commercial mixers, Sony 7" LCD digital photo frames, shelving units, storage containers, security system and Protech POS systems.
The online auction will be open until 5:00 p.m. MST on Monday, September 27, 2010. Interested parties can preview on Friday, September 24, 2010 from 8:00 a.m. to 12:00 p.m. Zwirl Yogurt Shop located at 4905 W. Ray Rd. in Phoenix or online at any time by visiting http://www.auctionandappraise.com/auctions.html.
About Auction Systems Auctioneers & Appraisers, Inc.
Auction Systems Auctioneers & Appraisers, Inc. is the Southwest's most active auction and appraisal company. Auction Systems features live and live simulcast auctions and appraisals of stolen and confiscated Police and personal product including cars, tools, electronics, jewelry, sporting, coins and surplus, as well as auctions of commercial and heavy equipment, real estate, antiques, guns, estate and business liquidation and bankruptcy.
Based in Phoenix, Arizona and an INC. 500 company, Auction Systems is one of the fastest growing privately held companies within the United States. Additionally, Auction Systems is an ICIC INC. 100 company and is ranked as the #1 fastest growing woman-owned business and the fifteenth fastest growing business overall within the inner cities of the United States.
Auction Systems Auctioneers & Appraisers, Inc. can be found on the web at http://auctionANDappraise.com.
###