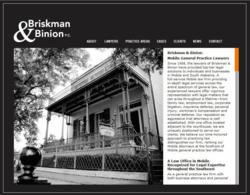 Mobile, AL (PRWEB) July 18, 2011
Briskman & Binion P.C., which is a business and injury law firm in Mobile, AL, recently launched their new website in addition to a new logo.
The new site, which can be found at http://www.briskman-binion.com, provides visitors with information about the firm, its lawyers, its specialties and information about past cases.
Briskman & Binion P.C., which was founded in 1988, has sought to maintain a clear community focus in Mobile, Alabama. The firm's experienced business lawyers and Mobile injury attorneys dedicate their time to civic boards, professional development and legal institutions in Mobile and throughout the state of Alabama.
Briskman & Binion attorneys are members of all courts in Alabama, as well as federal courts including the 5th and 11th Circuit Courts of Appeals and the U.S. Supreme Court. Also, because of their extensive involvement professionally and publicly, Briskman & Binion has earned a pre-eminent reputation among its peers.
Through numerous high-profile, precedent-setting cases in the areas of insurance law, personal injury, corporate law and construction litigation, the lawyers of Briskman & Binion have established a legacy of accomplishment and integrity. The firm's reputation for handling legal matters competently, timely and professionally precedes us in the courtroom and in the legal community; Briskman & Binion's highest compliment is many referrals from other lawyers. While they're proud of the recognition their peers and other law firms in Mobile have for them, Briskman & Binion lawyers are solely motivated in achieving the best results for their clients.
For additional information, please visit http://www.briskman-binion.com or call 251.433.7600.
###