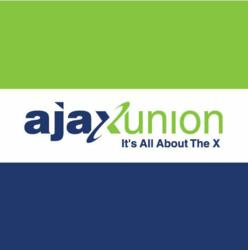 Networking Into Success is aimed at taking one's mingling skills from recreational to revered in his or her industry.
New York, NY (PRWEB) February 01, 2013
New York marketing agency Ajax Union, available at http://www.AjaxUnion.com, is currently promoting its new eBook, Networking Into Success. One in a series of eBooks written by Ajax Union's own team of marketing professionals, the company's Networking Into Success eBook gives readers all the insights they need into making the right impression at business networking events. From arrival time and dress code to conversational strategies and broadening connections outside of each respective event's circle, Networking Into Success is aimed at taking one's mingling skills from recreational to revered in his or her industry.
Business networking is an essential channel for the savvy professional to utilize since in-person connections are more likely to lead to business deals when compared to cold calls or anonymous emails, and to better equip professionals for these face-to-face interactions, Ajax Union has prepared Networking Into Success. The free eBook covers topics like arrival time, preliminary research, conversational etiquette, faux pas, creating a memorable impression, asking for referrals, and following up after the event. Tactics outlined in the eBook are crucial to successful networking experiences, as well as the expansion of a networker's business. The eBook uses statistical information to support each tip, as well as helpful anecdotes and analogies, and pointers on how to find networking groups and events.
"Attending networking events is essential for a company's success because they put professionals in touch with other enthusiastic individuals who are ready to exchange information and services. Meeting someone at a networking event is never a cold call—they wouldn't be there if they didn't want to explore their options. These events are an ideal way to make connections with local, assiduous professionals who can help each other's businesses grow," said Megan Fix, Agency Manager at Ajax Union.
Ajax Union is an Inc. 500-ranked business marketing company dedicated to educating professionals and expanding businesses. In addition to their promotional plans and services for clients, the agency offers a variety of resources including keyword software, webinars, eBooks, and hosts regularly-scheduled seminars and networking events in New York City.
Professionals looking to expand their business or networking connections can find out more about the marketing company online. Ajax Union can also be found on Twitter, Facebook, and the AJ Blog Network.