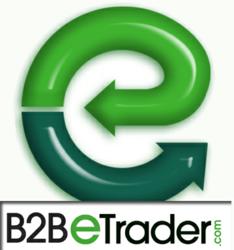 Supporting Small Businesses in 2012!
Tampa, Florida (PRWEB) June 19, 2012
In the last few years, social broadcasting has become an effective way for business to promote a wide variety of products and services to consumers. This is when firms are using various social networking sites (such as: Facebook and Twitter) to reach out to a large audience. The basic idea is that this is a tool that will target specific demographics based on areas of interest. For marketers, this increases their ability to connect with these audiences. Moreover, the 900 million plus members on Facebook provides them with an avenue of contacting these individuals. As a result, there has been a transformation in how firms are promoting themselves. One company that has been at the forefront for these innovations is B2B e Trader (with their online business marketplace).
What is B2B e Trader and the Online Marketplace?
B2B e Trader is the only firm that is concentrating on providing users with effective tools for transforming their business. This is accomplished through the online business marketplace, mobile applications and chat rooms / message boards. The online marketplace is a state of the art application that is allowing buyers and sellers to directly connect with each other for free. In the case of small businesses, this helps them to be able to locate various services they can trade for. This allows them to build their customer base over the long term. At the same time, they are establishing strong relationships with third parties and they are addressing critical needs. Making it ideal for businesses and professionals to share advertising listings to buy, sell, or trade a host of commercial used equipment, like restaurant equipment, medical equipment, office equipment, heavy equipment, IT equipment and more. This is giving small businesses the ability to reach out to a larger demographic of customers. When this happens, is the point that a firm is more capable of adjusting to a host of challenges.
To help streamline the utilization of these applications, B2B e Trader has introduced a mobile solution for Google Android users. In the near future, they will be rolling out similar applications for the i Phone and other devices. Furthermore, they also are providing users with the option of discussing possible strategies alongside some of the most successful entrepreneurs (via the chat rooms and message boards). The combination of these factors is helping businesses to directly connect with various stakeholders using social broadcasting technology. This is making them more competitive by intelligently targeting customers and third parties (who can address specific needs). Once this takes place, is when a firm is more competitive and can adjust quickly to new challenges they are facing.
Clearly, social broadcasting is transforming the way that firms are interacting with various stakeholders. B2B e Trader is at the forefront for these innovations, by using this technology to help users target specific demographics. When this happens, they are able to reach out to a larger base of potential customers and they can contact third parties about bartering for specific products or services. Over the course of time, this will help a small business to increase their sales and address critical needs (in a cost effective manner). This will ensure that they are capable of adjusting with new challenges and expanding their customer base. These are the keys for firms to remain competitive in various markets.