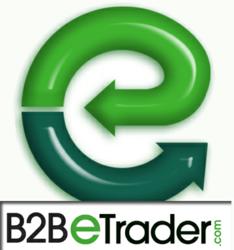 Tampa Fl. (PRWEB) March 29, 2012
A common challenge that most businesses are encountering is adjusting to changes that are occurring in the marketplace. This is because the last several years have increased the total amounts of competition facing firms. At the same time, the economy has gone through a major economic implosion followed by a slow recovery. The combination of these factors has forced business owners to make dramatic changes to their strategy. In most cases, there is a focus on reducing costs through: large layoffs and lowering the total amounts of compensation. This strategy has provided firms with near term benefits. However, over the long run, these kinds of cuts are having an impact on productivity and profit margins. At the same time, businesses have to be able to purchase new equipment in order to remain competitive.
One tool that is being utilized by a larger number of firms is B2B eTrader. They have an all-encompassing business marketplace that directly connects buyers with sellers. Their objectives are to offer value added solutions while eliminating the middle man during the process. This is providing small, medium and large firms with a number of distinct benefits. Making it ideal for companies to buy, sell, or trade used equipment, like restaurant equipment, medical equipment, office equipment, heavy equipment, farm equipment and more.
The Benefits of Purchasing Equipment through B2B eTrader
B2B eTrader is a next generation platform that allows businesses and professionals to quickly identify the products and services any business will need. This is achieved through browsing specific keywords and targeting them to those ads that are within a predetermined radius of your location. When a business owner is using this tool, they can intelligently connect with other organizations that have the products they are looking for. In most cases, the business owner can directly contact another firm that might have used equipment they want to trade or sell. While at other times, businesses can directly work with whole sellers that will provide them with specific products at a discount. This takes place through social networking on the more popular sites (i.e. Facebook) and targeting businesses towards specific parties with similar interests.
Those firms that are consistently using B2B eTrader have found that this is an effective tool for lowering their costs. This is allowing many businesses that are struggling to locate the equipment they need to remain competitive. The combination of these factors is helping a variety of organizations to more effectively adapt with the challenges they are facing. In the long term, this is allowing these companies to respond to the needs of customers. When this happens, they can maintain their market share and prevent the loss of cliental. This helps to improve the balance sheet by making small adjustments in those areas that will have a major impact on the business.
A significant challenge that most firms are facing is the loss of customers. This is because competition has increased and there are tremendous economic difficulties from the slow recovery. This is making it challenging for most businesses to make large capital expenditures. At the same time, they are facing continuous pressure to reduce their cost structure. B2B eTrader is addressing these issues by providing firms with a way to connect to whole sellers and other organizations that are marketing new as well used equipment. Those firms that are utilizing the online marketplace are able to reduce their costs and find the products they need in a specific geographic area. These factors are important in showing how all firms must be able to use these kinds of tools in adapting to the challenges they are facing.