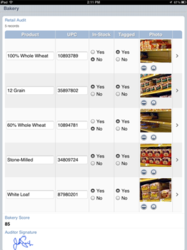 With this release we address the increasing demand for iPad mobile business apps, while providing an even better user experience for our customers.
Vancouver, BC (PRWEB) April 30, 2012
Flowfinity Wireless Inc., a proven provider of enterprise mobile apps for business process automation, today announced Flowfinity Actions 6.5, a visually stunning, tablet-optimized release of the software that has helped businesses across industries transform their operations through mobile apps.
Flowfinity Actions 6.5 introduces higher resolution graphics and forms to make the most of the new retina iPad screen. Grid-enabled views allow business users to complete tasks and data entry more efficiently by seeing more fields at a time without having to scroll through the form.
Adding pictures to form submissions is flexible and fast with enhanced picture capabilities that allow photos to be captured directly within a Flowfinity app using the device camera, or uploaded from native mobile device albums. This gives teams in the field more flexibility when collecting photos or evidence, while enabling structured submission of photos and other data into enterprise or data management systems.
Flowfinity users now have the ability to mark up or highlight photos, or just sketch something, making it even easier to share information. Users could, for example, flag a problem with a promotion display in a photo of retail conditions, or circle the safety deficiency found at a construction site.
Other new product enhancements such as conditional formatting, page navigation and field labels make it easier to create apps that react to the information users enter and guide them through a process. This allows for less cluttered forms and easier, more reliable and more efficient completion of tasks with less training.
"With this release we address the increasing demand for iPad mobile business apps, while providing an even better user experience for our customers," said Dmitry Mikhailov, President & CEO, Flowfinity. "Flowfinity Actions 6.5 delivers richer data, deeper business insights, and more efficient use of employee time on all mobile devices."
For more information about Flowfinity Actions 6.5, visit http://www.flowfinity.com/apps/actions_features.aspx.
About Flowfinity Actions
Flowfinity Actions is a fully customizable mobile enterprise software solution for creating custom mobile apps and forms to streamline mobile data collection, work orders, project management, asset management, retail execution, field service management, and many other business processes.
About Flowfinity
Flowfinity provides a proven, fully customizable solution for building enterprise mobile apps without programming. Since 2000, Flowfinity has helped leading companies across industries empower their mobile workforces in order to enhance productivity, engage management, and improve business insight through all areas of the organization. By making it easy and fast to mobilize day-to-day business processes on Android, iPhone, iPad and BlackBerry tablets and smartphones, Flowfinity enables mobile teams to access, report, and share information when and where they need to. Top global brands in CPG and other industries rely on Flowfinity software as the standard technology for automating critical business processes. For more information, visit http://www.flowfinity.com.