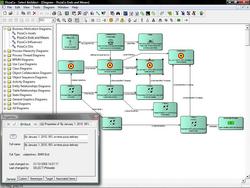 Once again, through early adoption and integration of new OMG standards into Select Solution Factory, Select has proven its position as a leading provider of business modeling and application development tools
Trumbull, CT (PRWEB) January 12, 2009
Today Select Business Solutions, a leader in process and software development tools, announced the immediate release of the latest version of its application development toolset, Select Solution Factory 7.1, with support for the Object Management Group's Business Motivation Model (BMM) standard.
Until recently, linking the development of IT systems to business strategy has, at best, been informal. Since the introduction of BMM, a standard for modeling business strategy, businesses have been able to apply a consistent meta-model for their business planning. By integrating BMM into Select Architect, an enterprise-scale business process, UML and data modeling tool, Select have completed the link from strategic planning to systems development.
"For over 15 years, Select has recognized and serviced the needs of business analysts to model their business processes, prior to analyzing the system requirements needed to implement those processes in IT," says Phil Webb, Principal Consultant with Select's Application Development Tools division. "Now, through the support for BMM provided in Select Architect, those analysts are able to clearly identify the visions, objectives, strategies and influences which shape those processes. All six abstractions in the Zachman Framework, Data, Function, Network, People, Time and Motivation can now be modeled in one integrated, enterprise-scale environment."
Select Business Solutions has been a regular early adopter of new standards in application modeling, working closely with the Object Management Group (OMG) to provide pragmatic support for Business Process Modeling Notation (BPMN), Unified Modeling Language (UML) and Model Driven Architecture (MDA).
"Once again, through early adoption and integration of new OMG standards into Select Solution Factory, Select has proven its position as a leading provider of business modeling and application development tools," said OMG's Vice President and Technical Director, Andrew Watson. "Modeling business strategy using the Business Motivation Model is an important aspect of identifying why a business might develop or change processes and systems. The Business Motivation Model support provided by Select Architect, integrated with its support for BPMN, UML and MDA, will allow analysts to work changes through from business strategy to software source code."
New features in Select Solution Factory 7.1 include:

Business Motivation Modeling - model the Ends (Visions, Goals & Objectives), Means (Missions, Strategies, Tactics & Directives) & Influencers for a business
Link Business Motivation elements to Requirements, Business Process and UML modeling elements
Prototype user interface forms in General Graphics Diagrams
Model index spaces and storage spaces in a physical data model
Support for Microsoft Visual Studio 2008
Further information about Select solutions for business analysts and IT specialists, including whitepapers, webcasts and software downloads are available from http://www.selectbs.com/adt .
About Select Business Solutions
Select Business Solutions, an Avantcé Software company (http://www.avantce.com ) is a leading international software company with customers drawn from the Global 1000. Select provides comprehensive solutions consisting of pragmatic tools and services, for business critical IT software development, deployment, management, information access and enterprise reporting. Headquartered in Trumbull, Connecticut, Select operates sales offices throughout North America and Europe, in addition to a network of international distributors.
Trademark information
Select Business Solutions, Select Solution Factory, Select Architect, Select Solution for MDA, and Select Process Director are trademarks of Select Business Solutions, Inc. in the United States and other countries.
Model Driven Architecture, MDA, MDA FastStart and UML and associated design marks and logos are trademarks and/or registered trademarks of the Object Management Group (OMG) and may be registered in the United States and/or other countries.
Other names mentioned may be trademarks of their respective owners.
Contact information
Colin Pickering
Select Business Solutions, ADT
Suite 801, Eagle Tower,
Montpellier Drive,
Cheltenham
GL50 1TA UK
Tel: +44.(0).1242.246200
Email: info @ selectbs.com
Web site: http://www.selectbs.com/adt
###