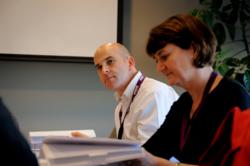 The Home Instead Senior Care franchise model complements the military training many veterans have received.
Omaha, Neb (PRWEB) December 01, 2011
After a four-year stint in active military duty serving in the Middle East, former U.S. Army Capt. Stephen Bryson was looking for new opportunities on home soil. He worked for a time as a fundraiser for a nonprofit, then in pharmaceutical sales for six years. All was going well until the recession and economic downturn cast an uncertainty on the pharmaceutical industry.
Meanwhile, a friend in Bowling Green, Ky., was thriving in a Home Instead Senior Care franchise providing nonmedical care and companionship to older adults. So Bryson, now 35, purchased his own Home Instead Senior Care business in Owensboro, Ky., in 2010 with the help of a VetFran discount. As an International Franchise Association (IFA) member, Home Instead, Inc., franchisor of the Home Instead Senior Care network, offers a 10 percent discount on the basic franchise fee to qualified veterans as part of a voluntary program that receives no government funding.
He's not regretted the decision. "This is right for me, and I like what I'm doing – the challenges and the things that go with this business. I am glad that I elected to branch out from what I was doing and from where I had been. We take a team approach, just as we did in the military. The employees are part of a team, and we're all working toward the same goal.''
Growth in the senior population has created opportunities to serve for entrepreneurs such as Bryson. An estimated 40.4 million people – 13.1 percent of the population – are 65 and older, according to the U.S. Census Bureau. What's more, military service and franchising appear to be a good fit. According to Census Bureau statistics, about 66,000 U.S. veterans are franchise business owners.
The favorable possibilities for business ownership come at a good time. Former military personnel are far more likely to be unemployed than civilians, according to the U.S. Bureau of Labor Statistics. Unemployment for veterans is 12.1 percent compared with 8.4 percent for civilians.
Steve Boos, 47, also a former Army captain who served in Iraq before buying a Home Instead Senior Care Liberty, Mo. franchise in 2005, said that the franchise model complements the military training many veterans have received. "I knew I was successful being able to follow a model or a process,'' said Boos, referring to his military experience. "And that's what Home Instead Senior Care did for me: They laid out a successful model. They have the big picture covered and I'm good at implementing," said Boos, whose office has 115 clients and 100 CAREGiversSM.
Tim Connelly, director of Franchise Development for Home Instead, Inc., said he believes that the discipline, determination and leadership skills acquired during military service can translate well into the Home Instead Senior Care network's mission of serving the growing senior population.
The Home Instead Senior Care network recently was named among the top 10 franchises for veterans by Franchise Business Review, based on highest satisfaction results among surveys of franchise operators who are veterans. Connelly also said the network's ties to military veterans go beyond franchise ownership.
"Our connection with veteran men and women is threefold: Not only does the Home Instead Senior Care network have military veteran franchisees around the world, but the organization's important home care services positively affect the lives of older veterans and the families who care for them,'' Connelly said. "In addition, franchisees can employ veterans and increase the number of veteran jobs in their local territories.''
For information about senior-care business opportunities, potential franchise owners can register for a one-hour Home Instead Senior Care Franchise Opportunities web conference. The next web conference is scheduled for December 13 at 1 p.m. Eastern Time.
ABOUT HOME INSTEAD SENIOR CARE
Founded in 1994 in Omaha by Lori and Paul Hogan, the Home Instead Senior Care® network is the world's largest provider of non-medical in-home care services for seniors, with more than 950 independently owned and operated franchises providing in excess of 45 million hours of care throughout the United States, Canada, Japan, Portugal, Australia, New Zealand, Ireland, the United Kingdom, Taiwan, Switzerland, Germany, South Korea, Finland, Austria, Italy, Puerto Rico and the Netherlands. Local Home Instead Senior Care offices employ more than 65,000 CAREGiversSM worldwide who provide basic support services – assistance with activities of daily living (ADLs), personal care, medication reminders, meal preparation, light housekeeping, errands, incidental transportation and shopping – which enable seniors to live safely and comfortably in their own homes for as long as possible. At Home Instead Senior Care, it's relationship before task, while continuing to provide superior quality service that enhances the lives of seniors everywhere.
# # #