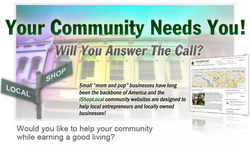 Our goal for iShopLocal.us is to provide local entrepreneurs the ability to quickly start a business that will not only benefit themselves, but also their local communities by providing Internet marketing and promoting the importance of shopping local
Richmond, VA (PRWEB) April 18, 2011
The majority of people today search online via search engines and social media websites for information about local businesses and services. The iShopLocal community websites are built to be search engine and social media "optimized" to help each listing rank higher in search results, which means more traffic, calls, and leads for the business owners. In addition, each iShopLocal community website is integrated with Facebook and Twitter so that local businesses can take full advantage of the popularity of today's social media websites and the marketing advantages they provide.
Each iShopLocal community website is fully customizable and search engine optimized offering detailed business listings that include descriptions, images, videos, contacts, reviews, ratings, coupons, and links to the business website and social media pages like Facebook and Twitter. In addition, the iShopLocal community websites can offer event listings, job postings, real estate listings, and other features to meet the needs of each community.
"After a decade of working in the web development and Internet marketing field, as well as owning two retail clothing stores, my wife and I decided it was time to help other small business owners across the country promote themselves online," says cofounder Michael Rupe.
Mr. Rupe goes on to state, "We thought of the iShopLocal concept of promoting small businesses and the importance of shopping locally in 2008 while operating two clothing stores in a small town in Washington State. At the time, it was obvious to us that local small businesses cannot compete with the large multinational or online only businesses on price, and the majority of our local residents did not understand the benefits that locally owned businesses provide to the community."
Cofounder Angela Rupe adds, "our goal for iShopLocal.us is to provide a way for local entrepreneurs to quickly start a business that will not only benefit themselves, but also their local communities by providing affordable Internet marketing and promoting the importance of supporting locally owned businesses."
If you would like to learn more about starting your own iShopLocal business and help your community, visit http://www.ishoplocal.us or contact Angie Rupe at 800.985.8907. In addition, you can show your support for shopping locally by visiting http://www.ishoplocal.us and clicking the Facebook "Like" button at the top of the page.
###