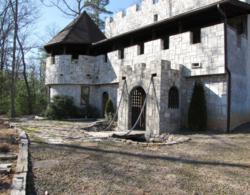 The Castle Stone that started it all.
Port Charlotte, Florida (PRWEB) March 30, 2012
Olde World Stone & Tile Molds, Inc. specializes in the manufactured stone, paver and tile mould business. Starting on April 1, 2012 and running through April 15, 2012 (Tax Due Day), the company is offering an amazing Business Start-up Stimulus Package Training Course, free to customers with a purchase of any Complete DIY Project Kit from their on-line retail store. Panagos states, "There are many Kits available in all price ranges and for all products in our eStore Shopping Cart. If there is not a stock Kit available for a product that a customer wants--- we'll make a custom Kit up for them."
The Training Course consists of a CD with the 200+ page Olde World Business Start-up Manufacturing Manual, the 115+ page Olde World Marketing Manual, customizable Business Plan, and other training material to teach step-by-step, how to use their molds to create beautiful, professional quality, custom bricks, stones, tiles, and pavers to sell. The Course CD and DVD Video normally sell for $599.00. And NO--- this is not an April fool joke.
The Olde World start-up business opportunity Stimulus Package is an incentive for those who have always wanted to start their own stone, paver, tile, and brick business, but didn't think they could do it on their own. The company's owner, John Panagos, feels this is an incredible business that almost anyone can do. "All that our customers need to get started is a desire to learn, a normal-sized garage or work shop, and some start-up capital for basic supplies and molds. And for the entrepreneur with business capital to get started on a commercial scale, there are Business Packages available to fit almost any budget. Our training material will show them just about everything they need to know to run a business efficiently and profitably. And that includes even those who are absolute beginners and have never worked with concrete or molds before," explains Panagos.
The company has been helping do-it-yourselfers and entrepreneurs create their own stones, bricks, pavers, and tiles for over 20 years. Though many customers may order the materials and molds Kit to remodel their own homes--- that is fine. The company is counting on the many customers who will then be so impressed with the results they achieved with their projects, that they will seriously consider starting a business. And they will already have all of the information at their fingertips if they do. Panagos created the Start-up Business Opportunity Training Course for those who want to take their skills to the next level. If they start a business, that will be great. If not, they will have been able to make a better commercial-grade product for their own project, and they will be proud of the results and tell people.
Panagos states, "In many towns across America, there's a tremendous demand for high-grade, custom-made stone, pavers, brick, and tile. Now, customers of Olde World Stone & Tile Molds, Inc. can use their creative skills to fill the gap in their own area. They can help local home builders, landscapers, and remodelers get the unique style products they've always dreamed of, and at a fraction of the cost when compared to having these products shipped in from elsewhere."
To learn more about the Olde World Business Opportunity or our Business Start-up Stimulus Package Promotion, readers can visit the Olde World Stone & Tile Molds, Inc. web site.