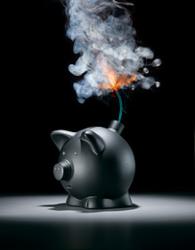 "Webrageous has seen many cases where PPC management agencies offer clients a cheaper service comparatively but they are able to do this because they hire pay per click managers who are unqualified as they can hire them for less."
Reno, Nevada (PRWEB) July 10, 2012
Pay per click management firm Webrageous has issued a warning to all business owners advertising online not to skimp and try to save money by choosing a cheap and unqualified pay per click (PPC) management company to manage their online advertising campaigns.
The warning comes after Webrageous was contacted recently by a number of businesses who had gotten into trouble with their advertising after hiring pay per click managers that were less than desirable.
"We are seeing more and more businesses seeking help with their online marketing, however in order to save money they are choosing PPC management firms or agencies that are unqualified or unscrupulous," Webrageous' Director of Marketing David Chapman said.
"This has become a common trend as few businesses have the time to run their own online marketing campaigns. While outsourcing pay per click management is highly recommended, choosing unwisely or picking an agency because it's cheap will only end up damaging advertising campaigns, perhaps irreversibly so."
Choosing a PPC firm is never going to be easy. That is why Webrageous feels it is important to let business owners know these important facts about certain PPC management firms so that they will not settle for second best or choose purely based on price.
Not every PPC management firm hires qualified managers
Just like many other industries where businesses choose to outsource, they need to check for qualifications. Unfortunately, there are pay per click firms that hire PPC managers with little experience and, in some cases, no qualifications at all.
"We can't stress enough how important it is to research a firm before signing on with them," Mr. Chapman said. "An unqualified PPC manager could end up doing more harm than good to your online marketing campaigns. So while advertisers may save money in the short term, in the long term they are far worse off.
"Webrageous has seen many cases where PPC management agencies offer clients a cheaper service comparatively but they are able to do this because they hire pay per click managers who are unqualified as they can hire them for less."
"Look for marketing qualifications in all members of the management team. They should hold at least a bachelor's degree or postgraduate in marketing. Make sure the team is qualified in Google AdWords if you are even thinking about advertising on the most important of all the search engines. Find out how much experience they have. Ask all these questions and much more before signing on with any PPC management firm."
Many PPC management firms only take on clients on a full-time basis
Depending on a business' specific advertising needs, not every advertiser will need the services of a PPC manager around the clock. However, many PPC management agencies do not provide part-time solutions for clients. This means you will have to pay for services that your business might not actually require.
"If your business is seeking PPC management advice on a part-time basis then you will need to find a firm with consultancy services, such as Webrageous," Mr. Chapman said. "No matter whether you have a very small or large budget, Webrageous is able to offer its services on a contract basis. Our PPC managers will then be available for any advice required or assessment of your campaigns that is not on an ongoing basis.
"Of course, at Webrageous we believe in making our PPC managers available at all times in case an emergency on your advertising campaigns arises. So while we will not be working for you full time, we will be available whenever you need us."
Make sure you find a PPC management firm that you feel comfortable with
The PPC management firm that you choose will be working very closely with your business and handling most of your advertising management strategies. Therefore, it is important that you feel comfortable with that firm and with its PPC managers.
"Trust in your PPC management firm shouldn't be underestimated," Mr. Chapman said. "You need to have the confidence to allow the firm to spend your online marketing dollars and trust in them in order to accept the important advertising management advice that they offer.
"This is the best way to ensure success of your PPC campaigns. There is no doubt your business will profit from a healthy relationship with your PPC management team. Trust your instincts and go with a team that you can rely on."
For more on why it is so important not to skimp on PPC management, or to find out more about the successful management techniques that Webrageous employs, consult the company website: http://www.webrageous.com. You can also contact David Chapman at 530-553-1111 in order to set up an interview.