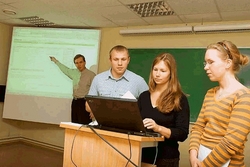 iPlanner.NET is innovative as compared to other business planning tools. It has been developed to be 100% online and teamwork-oriented.
(PRWEB) June 16, 2010
iPlanner.NET is a fast, secure and easy to use Web 2.0 application that brings business planning online, effectively letting teams to contribute to projects remotely. The service is aimed at entrepreneurs, investors and advisors.
iPlanner is equipped with a powerful financial engine and user-friendly interface that makes business planning and scenario modeling incredibly convenient for distributed users. It can create an ideal situation where investors or advisors can have a look on the status of the project, therefore saving time, improving communication and decision–making process.
Teams of every denomination could benefit from iPlanner.NET online planning service - not only entrepreneurs and consultants can use it. Students and faculty, incubators and venture capital firms will also be able to maximize it. This aspect makes iPlanner unique among other planning tools, which are often geared at personal use and may not allow for effective, distributed work. Editing a shared and uniformly structured document can raise project development and evaluation to a whole new level, because all data is managed centrally and parties can safely access it whenever necessary.
"By the end of the day, a complete business plan can be published and shared with a full set of financial projections and performance ratios", says Armin Laidre, a co-founder of iPlanner.NET. There is nothing to download or install, the application is always updated and ready to go. Various pay-as-you-go service levels are available, starting from a free BASIC subscription.
Each iPlanner business plan has its own unique Web address (URL) which allows convenient access to the project, without the need for off-line files or printed documents. Project members can employ unlimited "what if" simulations is order to study the different outcomes of any scenario. There are hundreds of examples and ready-to-go templates built-in with iPlanner.NET
Write and share your plans with Planner.NET online business plan software.
###