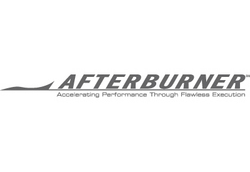 What we teach in the Flawless Execution(SM) University is information that will continue to last long after the program is over.
Atlanta, GA (PRWEB) October 8, 2009
Afterburner, an Atlanta-based team building, training, and consulting firm, is pleased to announce that it has been approved by NASBA (the National Association of State Boards of Accountancy) to offer Continuing Professional Education (CPE) credits to participants registered in its Flawless Execution(SM) University business process improvement course.
Flawless Execution(SM) University, which offers programs designed to close the execution gap through streamlined processes, is ideal for everyone with a business-related challenge that needs to be solved. The course is set up as smaller meetings with low instructor to guest ratios that introduces powerful business process improvement tools with the help of Afterburner's knowledgeable team of performance experts. This powerful course is positioned to further increase ROI as Afterburner can now award participants who complete the program with up to 21 CPE credits.
"Being awarded certification by NASBA highlights Afterburner's commitment to providing program participants with intuitive, professional education opportunities that enhance and build on current knowledge sets," said James Murphy, CEO and founder of Afterburner, Inc. "What we teach in the Flawless Execution(SM) University is information that will continue to last long after the program is over." For more information on Afterburner's business process improvement programs and events, please visit http://www.afterburner.com. Or to register to receive CPE credits through the course, please call 1-800-261-2912.
About Afterburner Equip
Afterburner Inc., founded in 1996 by James D. Murphy, a U.S. Air Force fighter pilot who realized the value of the tools he learned in the 'zero tolerance for error' world of military aviation, has trained over 1.5 million managers and executives in the simple, scalable improvement processes of Flawless Execution(SM). Within this model is its Equip solution, which provides training, consulting and software services through a variety of methods. With a client list that includes over 23% of the U.S. Fortune 500 companies, Afterburner has been featured regularly in publications such as the Wall Street Journal, Business Week, Inc. Magazine, Financial Times, Newsweek, and Meetings and Conventions Magazine. In addition, the company has appeared on CNN, CNBC, Fox News, and Bloomberg News. For more information about the Equip program, please visit http://www.AfterburnerConsulting.com.
# # #