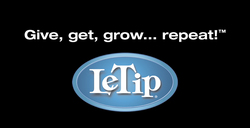 I originally wrote this as the title of the seminar, but it has quickly taken on a life of its own
Mesa, AZ (Vocus) October 4, 2010
LeTip International, the premier professional leads organization, has launched a new marketing initiative featuring their new slogan, "Give, get, grow… repeat!" LeTip CEO, Kim Marie Branch-Pettid, created the slogan for a recent networking seminar she presented at the University of Phoenix. "I originally wrote this as the title of the seminar, but it has quickly taken on a life of its own," said Branch-Pettid.
LeTip International, now in its 33rd year, is the originator of the structured networking program. The LeTip concept has developed into a tried and true system with one intent—to increase business for members through the exchange of qualified referrals. "The structure is what gives LeTip chapters the edge over casual referral groups," said Branch-Pettid. "LeTip chapters look for members who understand that relationships take time, and success comes to those who are committed to the group." Branch-Pettid also noted, "The new slogan says it all. LeTip members understand that the referral process starts when they 'give' Tips, so everyone will 'get' Tips, and that's how we all 'grow' our businesses. And when something works, by all means, 'repeat' the process."
"Kim Marie has encapsulated our program into four simple words," said LeTip Director of Marketing, Mop Prime. "The brilliance of this slogan is that people understand it immediately. Great slogans inspire everyone," continued Prime, "and this slogan is great... it is memorable, it makes sense, it has a definite rhythm, and it quickly conveys the benefit of membership."
The new slogan will be used in upcoming marketing campaigns, both online and off. "LeTip International's well-known slogan, 'Dollars in your pocket!'™, will always have a place of honor in our promotional materials," said Branch-Pettid, "however, it will be exciting to roll out this new campaign!"
About LeTip International:
LeTip International, headquartered in Mesa, AZ, is the world's largest, privately owned, professional business leads organization. Since 1978, LeTip programs have helped over 60,000 members, throughout the United States and Canada, to build business success through personal referrals. The Guiding Principle of LeTip International is to intentionally help one another prosper through mutually beneficial relationships, and thus create an economy that rewards everyone.
LeTip International's structured program set the standard in the word-of-mouth referral industry. Members are known for their professionalism, dedication, and loyalty to one another. LeTip Chapters meet weekly to exchange qualified leads, build solid business relationships, develop strong presentation skills and become proficient networkers. Only one representative of any given profession is accepted into a chapter, and members are chosen for their occupational expertise. For more information visit http://www.letip.com
###