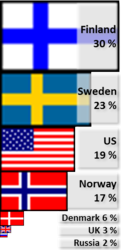 St. Petersburg (PRWEB) April 13, 2012
In 2011 Arcadia, ZAO paid special attention to mobile technologies. With B2B sector more and more often embracing iPhone, Android and other phone apps in their day-to-day business, mobile development became an integral part of Arcadia`s service offering in custom complex business applications development. Besides, Arcadia increased income and staff, approved certification according to new rules of Microsoft Partner Network and gained a number of new clients.
Adding mobile development to Arcadia`s service offering was done in response to market trends. "Development of a mobile application is usually a small project. Thus it may seem not very attractive for Arcadia, as we focus on long-term collaboration with clients and large-scale projects," Svetlana Kazanskaya, business development director of Arcadia, commented.
"But mobile app can be a part of a complex system. For example, it can be an online helper for insurance company customers, or it can be access for employees to corporate documents management system and internal portal while they are on a meeting out of office. Of course, we are interested in providing our clients with the full range of software development services. Understanding client`s tasks and architecture of main application along with knowing specifics of mobile development is a good competitive advantage allowing to solve client`s tasks quickly and effectively."
Here are samples of mobile apps developed in Arcadia for its clients in 2011 on Android, iOS (iPhone/iPad) and Windows Phone platforms:

Mobile app for a system providing automation of work time registration, managing information about employees and other HR-related functions. Employees can access and synchronize their calendars and contacts, view tasks, announcements and reminders and respond accordingly (e-mail/SMS/call appropriate contacts, approve/reject), schedule/approve vacations and perform other related tasks from their smartphones.
Mobile app for a municipal collaboration portal for kindergartens: allows children's parents view and send personal messages; create and edit notifications to kindergarten personnel about child's illness, vacations or changes in coming/leaving time; add photos to the photo album.
Mobile access for real estate agents to the corporate portal: viewing orders and all related information and documents; sending documents and messages by e-mail.
Similar to other areas of expertise, Arcadia's strategy is to provide full cycle of development services adjusted to mobile development specifics:

Business analysis of client's products:
— select products with best potential to build an attractive mobile app
— select features appropriate for mobile version

Choice of mobile platform(s)
Description of technical solution and interaction of mobile app with the main system
UI design and usability adjusted to small screens and to specifics of each platform on which the app is developed:
— appropriate combination of "platform style" and corporate style
— using controls with adjustment to specifics of each platform
— integration with built-in smartphone features (GPS, contacts, orientation and rotation, etc.)
In general, 2011 was a successful year for Arcadia. The income in 2011 was $ 7.1 mln (16 % growth compared to 2010) or € 5.1 mln EUR (+11 %) or 202.6 mln RUR (9 %). The staff grew up to 186 employees (+16 %). Besides, Arcadia attained 2 Gold and 1 Silver Competencies in the new Microsoft Partner Network program.
All key clients stayed with the company for 2012 — F-Secure (Finland, information security), Aditro Group (Northern Europe, HR and accounting business process outsourcing), it`s learning (Norway, e-learning), UNI-C (Denmark, education and research), Janssen Research & Development, LLC, (USA, development of innovative health care products, pharmaceutical business of Johnson & Johnson), Digital Revolution (US), Insurance company ERGO Russ (Russia), Banksurance.com (USA). A number of contracts with new clients were concluded as well — one of them is OPP, a UK company offering leading personality assessment tools.
About Arcadia, ZAO
Arcadia provides custom software development services for business: development of new business applications and products, re-engineering legacy software and data migration; dedicated development teams. More than 85 % of Arcadia's business is based on long-term relations with the customers. This fact, together with excellent testimonials of our clients, describe Arcadia as a stable and reliable provider of high-quality software solutions. Arcadia's team has a great experience in development of large-scale information systems for business process and workflow automation, education and e-learning, HRM, accounting, insurance automation, pharmaceutical research, security and data protection.