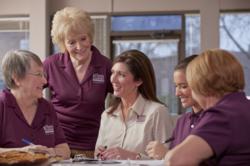 More than half of Home Instead Senior Care franchises -- including the top five U.S. franchises -- are owned, all or in part, by women.
Omaha, NE (PRWEB) December 29, 2011
Jane Downing has a Ph.D. in sociology and worked in the education field for more than 10 years as a project manager and field researcher. Remaining on that career path indefinitely would have been an easy and safe choice.
But in 2009 – in the midst of a national recession – she decided to follow her heart and jump into a senior home care business despite having no background in entrepreneurial franchising. "Two unexpected family deaths changed my outlook on life,'' Downing said. "They were significant events that caused me to think, 'What am I doing?' Life is short. I feel compelled to make a difference in this world. That is what I do every day now."
Downing is in good company. As of 2011, it is estimated that there are more than 8.1 million women-owned businesses in the United States, generating nearly $1.3 trillion in revenues and employing nearly 7.7 million people. As it turns out, health care and social service fields have the highest concentration of women-owned firms (52 percent of firms in this sector are women-owned, compared with a 29 percent share overall), according to the American Express OPEN State of Women-Owned Businesses Report, a Summary of Important Trends, 1997–2011.
In fact, more than half of Home Instead Senior Care® franchises – the franchise network that Downing invested in – are owned all, or in part, by women, including the top five U.S. franchises.
Tim Connelly, director of Franchise Development for Home Instead, Inc., said he believes that women bring many valuable skills to home care franchising, including caring, compassion, organization and the ability to get people to work together. "What's more, women are often viewed as the family caregivers, so they understand the needs and challenges of caring for others."
Downing herself says that caregiving was a natural fit. In fact, her grandmother was able to live at home because their family helped and they had the assistance of a private pay caregiver.
It took a friend to introduce her to the business side of caregiving. Downing's lawyer friend bought a Home Instead Senior Care franchise in 2003. Her friend saw the value of running a home care business that, for as little as a few hours a week, could help older adults stay in their homes by providing living assistance with such tasks as meal preparation, light housekeeping, medication reminders, errands and shopping.
"One draw was an effective business plan,'' Downing said. "The other was that everyone I met at the home office was a clear believer in what they were doing. In my mind, though, the successful business model was not 'how much money could I make?' but 'how could I impact people around me by doing something that was worthwhile?'''
In May 2009, Downing opened the Northeastern Connecticut Home Instead Senior Care office in Tolland. It was two months before her first client signed on. Within 10 months, she said, "business just sort of took off.''
"Hiring great people in the office helped a lot,'' she said. "There was growth by word of mouth. I still think good success is measured by just doing good work, completing your mission of helping people,'' she noted.
"As a child, I watched the TV show, Marcus Welby, M.D.,'' said Downing, who grew up in Pennsylvania and Maryland. "That's who I wanted to be. Now as I look back on it, I think I was attracted to less of the medicine and more of the face-to-face compassion that Dr. Welby showed. It was a long and nonlinear path, but it was the path I ended up following.''
For information about senior care business opportunities, register for a one-hour Home Instead Senior Care Franchise Opportunities webinar. The next webinar is scheduled for Feb. 8, 2012, at 1 p.m. Eastern Time.
-------------------------
The Home Instead Senior Care Network and Small Business Administration Share Tips to Help Women Entrepreneurs Make the Most of Opportunity
DO YOUR HOMEWORK: A prospective woman business owner should do her homework first. She needs to have a road map, a business plan, which forces the owner to think carefully about her target market and how she will reach it. In thinking about her goals, she needs to figure out the money she'll need, where it will come from and where it is going. Without a business plan, getting a loan is almost impossible. The Home Instead Senior Care® network, like the Small Business Administration, can help with setting up a business plan.
BE CONFIDENT: Foster an unending belief in the business, "knowing that what you do will be successful because you know it is the right thing for you to do," said Home Instead Senior Care Franchise Owner Jane Downing.
BECOME AN EXPERT IN YOUR FIELD: "Be so confident in the business that you will become the expert in your field in your area," Downing said. Stay on top of your business and keep learning.
BE BOLD: Don't be afraid to ask for client referrals. "It's an element of getting past the stage of just giving out information. If you don't ask for the business, you might not get it," Downing said.
NETWORKING (IT'S MORE THAN SOCIALIZING): "Networking, in large part, needs to be about the business (i.e., building relationships with the people who are in positions to make referrals)," Downing said. "However, there also is networking that is about becoming a trusted resource in and for the community, beyond what the business offers. For me, the purpose of networking is to focus on one or the other or both, as the situation warrants."
BE TOUGH WHEN NECESSARY: The stereotype is still about women being nice, gentle and not rocking the boat. "There are times when you have to make tough choices, when your decisions will hurt feelings and when you will have to do something that is very difficult," Downing said.
PERSEVERE: This endeavor is like training for a marathon in that you keep taking step after step after step until you get there, noted Downing, a marathon runner. "You keep doing the things that you know will lead to success. I always was one of the kids who, when someone told me that I couldn't do it, I took it as a challenge."
ABOUT HOME INSTEAD SENIOR CARE
Founded in 1994 in Omaha by Lori and Paul Hogan, the Home Instead Senior Care® network is the world's largest provider of non-medical in-home care services for seniors, with more than 900 independently owned and operated franchises providing in excess of 45 million hours of care throughout the United States, Canada, Japan, Portugal, Australia, New Zealand, Ireland, the United Kingdom, Taiwan, Switzerland, Germany, South Korea, Finland, Austria, Italy, Puerto Rico and the Netherlands. Local Home Instead Senior Care offices employ more than 65,000 CAREGiversSM worldwide who provide basic support services – assistance with activities of daily living (ADLs), personal care, medication reminders, meal preparation, light housekeeping, errands, incidental transportation and shopping – which enable seniors to live safely and comfortably in their own homes for as long as possible. At Home Instead Senior Care, it's relationship before task, while continuing to provide superior quality service that enhances the lives of seniors everywhere.
# # #