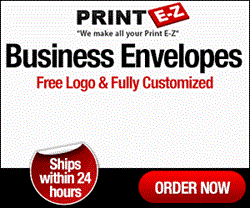 www.PrintE-Z.com processes make sure that standard envelope sizes reach your doorstep quickly."
Monroe, NY (PRWEB) August 14, 2012
Custom envelope printing can cost a packet but Print EZ now offers cost effective solutions of getting printed business size #10 Envelope by ordering the required quantity online for delivery at your doorstep at very competitive prices.They have implemented a strategy to provide a cost advantage in addition to other services such as digital proofing, templates,sample kits and professional advice.
Print EZ has been able to take the pain out of business envelope printing. Instead of the hard copy route, everything is done online. Templates are now designed by experts at Print EZ, keeping in mind the requirements of most business. However, for cases where businesses need something more, their designers work with clients to understand specific needs and submit a draft for approval and a quote. All communication is online, which is a big timesaver. Moreover, the round-the-clock processing at Print EZ ensures that all corrections and additions are resubmitted for approval without delay.
Print EZ's CEO Morris Rose says, "At Print EZ we have very short and realistic turnaround times and our staff works hard to deliver within the deadline committed to customers at the time of accepting orders. As soon as a client approves the final draft, it is sent to the printing department immediately. We take extra pains to ensure that delivery schedules are met so that ourcustomers do not have any cause for complaint. Besides reliability and prompt service, we understand that our clients are purchasing a quality product and need something extra. Our experts are always prepared for rendering advice on how to use custom business envelopes as an effective marketing tool."
For businesses that need to send letters, bills, checks and other correspondence to customers and prospects on a regular basis, PrintEZ.com has added a variety of templates on its website. With these additions, customers can choose their own size and design according to their specific requirements. They may also seek professional advice to create an impressive and compelling design in order to have a well crafted envelope that makes its mark on whoever views it.
Templates available for viewing on the PrintEZ.com website have been expanded. They have been designed for every conceivable mailing requirement of businesses. For businesses using computers for printing checks, PrintEZ.com offers customized business envelopes with a window so that names and addresses do not have to be written or computer-printed every time bills, checks or letters have to be sent out.
For convenience of customers, the company offers different types of computer checks for a variety of accounting software and also compatible with most of the office printers available in the market. For promotional offers where you need to get a reply from prospective customers, the PrintEZ.com template for business reply mail has all the relevant information printed on an envelope #10 size.
The implementation of this strategy has made ordering online with PrintEZ.com a hassle-free process. Orders can be placed within ten minutes and the website can be accessed any time of the day. No matter the time, orders are processed as soon as they are received. This means that urgent requirement for business envelopes can be now serviced in record time. Repeat order of what has already been ordered some time back can be processed even faster. The company's IT policy keeps a track of customers and the orders that they have placed historically along with the details and digital files. A simple repeat order request with relevant information sent to PrintEZ.com will do the job. PrintEZ.com uses digital printing, which allows it to print in the shortest possible time.
Regardless of the fact that most people are online these days, many people still prefer hard-copy ads the traditional ways. Business envelopes will always be in demand and ordering online with PrintEZ.com is the most reliable way of getting them delivered at your doorstep in the shortest possible time.
Get more information about how Print EZ offers and new launches on Business Envelopes at or call the company at 1-888-246-0635.
To read more about # 10 Envelopes click here http://www.printez.com/10-envelopes.html and get regular updates of new offers and deals here.
Print EZ
4 N Main St.
Monroe, NY 10950
(845) 782-5832