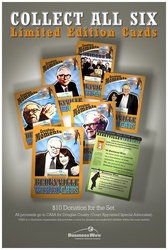 Business Wire is certainly excited about being present again at the Berkshire annual meeting and we look forward to meeting and greeting shareholders and helping out with a worthy cause like CASA
OMAHA, Neb. (PRWEB) May 1, 2008
A pack of six cards featuring quotes and photos of Berkshire Hathaway's Warren Buffett and Charlie Munger and Business Wire President and CEO Cathy Baron Tamraz will be available to attendees. The cards will sell for $10 and also include statistics on Business Wire, which was acquired by Berkshire Hathaway in 2006.
All proceeds will be donated to CASA For Douglas County, Nebraska (Court Appointed Special Advocates), a charitable organization that provides a voice for abused and neglected children within the court system through the use of trained citizen volunteers.
"Business Wire is certainly excited about being present again at the Berkshire annual meeting and we look forward to meeting and greeting shareholders and helping out with a worthy cause like CASA," said Tamraz.
CASA was established in the Omaha area in 1998 upon the urgency of area judges. The idea of CASA first originated in the Seattle area, when a juvenile court judge felt that he was not sufficiently informed on a case involving an abused child. CASA was created under the premise that there must be an advocate for foster children within the court system - someone who will fight and keep the children's best interests at heart. It is the CASA volunteer that helps judges make good decisions on behalf of the abused and neglected children.
"CASA volunteers are ordinary people doing extraordinary work. They are a powerful voice in a foster child's life", said Nancy Wilson, Executive Director of CASA For Douglas County.
The cards are available on a first-come basis at Berkshire Hathaway's annual meeting, which takes place Saturday, May 3 at the Qwest Center in Omaha.
About Business Wire
Business Wire, a Berkshire Hathaway company, is utilized by thousands of member companies and organizations to transmit their full-text news releases, regulatory filings, photos and other multimedia content to journalists, news media, trade publications, institutional and individual investors, financial information services, regulatory authorities, Internet portals, information web sites, business-to-business decision-makers and consumers worldwide. With a news distribution network spanning 150 countries and 45 languages, Business Wire's multi-channel delivery network has access to dozens of international and national news agency networks throughout the Americas, Europe, Asia, the Middle East and Africa.
The Business Wire news network is powered by its patented NX high-speed data platform and supports XML, XHTML and XBRL code to deliver the most sophisticated news file to enhance news release interactivity, customization and search engine optimization. Business Wire has 31 bureaus in cities including New York, San Francisco, Los Angeles, Chicago, Boston, Miami, Paris, Frankfurt, London, Brussels, Tokyo, Toronto and Sydney with reciprocal offices throughout the world. Business Wire was founded in 1961.
KEYWORDS: Berkshire Hathaway, Business Wire, CASA, Charity, Children's Charity, Collectibles, Fundraiser, Warren Buffett, Trading Cards, Omaha