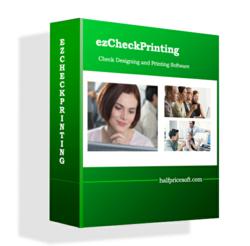 ezCheckPrinting lets managers and business owners spend as little time as possible on check management, so they can focus on the income-earning aspects of their business.
San Diego, CA (PRWEB) October 12, 2011
Now multiple users in a company can enjoy the simplicity and powerful features of ezCheckPrinting without risks of overlapping data or duplicate check numbers. Halfpricesoft.com (http://www.halfpricesoft.com), the small business software provider, released new edition of ezCheckPrinting check writing software and allows multiple users to access the same check printing database. This new feature eliminates the worry of duplicate check numbers and other banking errors that can be caused by overlapping data if checks are printed from separate installations.
EzCheckPrinting check writer offers business users numerous advantages over pre-printed checks. From saving time and money, to increasing security and convenience, ezCheckPrinting helps business increase productivity during downturn.
"In a down economy, companies need to streamline and increase efficiency, so they can be more productive with every minute and every dollar," said Halfpricesoft.com founder Dr. Ge. "ezCheckPrinting lets managers and business owners spend as little time as possible on check management, so they can focus on the income-earning aspects of their business."
Known for affordability and ease-of-use, ezCheckPrinting software from Halfpricesoft is highly popular with small to mid-sized corporations, government agencies, non-profits and financial institutions. With ezCheckPrinting the user never needs to re-order checks from a bank again. The new version of this WYSIWYG check writing and printing software makes it easier to print professional looking checks with logo and is available for free download at: http://www.halfpricesoft.com/check_printing_software_download.asp.
Although simple to use, ezCheckPrinting is loaded with features and customization options that result in impressive, professional-looking checks.
The main features of this check writer software include:

3-Per-Page, Check on Top, Check in Middle, and Check on Bottom options.
Support logo and signature images
Print checks from blank computer check paper with pre-printed checks.
Print pre-printed blank checks to fill in manually at a later time or to use with other software such as ezPaycheck, Quicken, QuickBooks and Microsoft Money.
Support unlimited accounts and unlimited checks.
This check printing software is popular with small businesses because it is easy to use, affordable, and saves time compared to writing checks by hand or using complicated software - especially when paying bills or writing payroll checks.
Still affordable, still FREE to try
ezCheckPrinting is still the most affordable check printing software for small businesses that still has all the robust features a business needs. The single-user stand-alone is just $29. ezCheckPrinting with network compatibility is just $99 for up to five users, or $159 for an unlimited number of users.
And the best of all, users can even get the single-user version for FREE through TrialPay offer.
About halfpricesoft.com
Halfpricesoft.com is a leading provider of small business software, including payroll software, employee attendance tracking software, check printing software, W2/1009 software, and barcode generating software. Today software from halfpricesoft.com is trusted by thousands of users and help small business owners simplify their payroll processing and business management.
For more information about ezCheckPrinting and Halfpricesoft.com, visit online at http://www.halfpricesoft.com/product_ezCheck.asp.
###