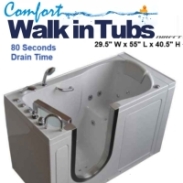 A partnership with Comfort Walk in Tubs brings substantial and sustainable revenue for qualified and success driven individuals and businesses.
Los Angeles, CA (PRWEB) February 25, 2012
Recently, Comfort Walk in Tubs reveled its annual online lead report for 2011 through PRWeb. Surge of online leads induced the company to escalate its business partner's campaign to new heights by offering construction businesses and health professionals a national network program. The business network comprises of bathroom installers, plumbers, home renovation contractors, senior housing developers, senior and safety related online stores and local showroom businesses, while the health professional network includes individuals and organizations involve with elder care, senior facilities and retirement living institutions. According to Mel Newman, the senior marketing manager of Comfort Walk in Tubs, "members of the company's national network will be provided with attractive incentives which include endorsements, discounted tubs, substantial sales commissions and sharing of leads to local partners."
Comfort Walk in Tubs provides the elderly and the handicapped with a safe bathing solution through the sale and installation of walk in tubs. The company requires all applicants to its business network program to read and abide to the "buyers' assurance declaration" found on its website. Industry partners, as stated in comfotwalkintubs.com needs to be "licensed, bonded, insured and all credentials publicly verifiable." Proof of craftsmanship must be provided by means of testimonials through a link to an independent review sites such as Trust Link or through a phone number with direct access to former clients serving as referrals. Housing contractors, health and seniors professionals, and retirement institutions should also provide proofs of excellent customer service, fair complaint resolution guarantee and disclosure of past legal issues regarding seniors. Mel Newman declares that "Our company values its endorsement and we will not allow our company's name be tainted by being associated with unscrupulous individuals that prey on the elderly. We will only partner with likeminded companies that provide customer friendly services."
Comfort Walk in Tubs invites partnerships for the following qualification with its corresponding perquisites:
Online stores. The e-store network is available for websites that sell bathroom products or merchandizes related either to seniors or to home safety. Accepted web store applicants will enjoy a discounted tub at a wholesale dealer volume pricing even for single purchase for drop shipping. Comfort Walk in Tubs will then list the accepted company on its website as a national distribution partner and the partnership announce through a press release on PRWeb.
Local dealers and showrooms. Comfort Walk in Tubs does not obligate its local dealer and showroom partners to have a company website but the company desires at least local directory listings on Manta, Yelp, Google Places, or LinkIn. The company requires that local dealers should have a capacity to purchase or rent a showroom tub which will be available to the public for viewing. A discounted tub shall be provided to the accepted local dealer at a cost lower than volume pricing. Local dealers should be able to generate their own leads. Comfort Walk in Tubs is not obligated to provide leads to its local dealers. Upon acceptance, local dealers shall be listed on the company website as part of the local dealer distribution network and a press release will be issued announcing partnership.
Construction industry partners. The company desires excellent craftsman that can provide verifiable workmanship through referral. As part of the company's installers network, construction contractor, home renovators, bathtub installers, electrician and plumbers shall be provided with local leads coming from Comfort Walk in Tubs' national pool. Prospective industry partners from South California and the Philadelphia–Camden–Vineland (PA-NJ-DE-MD) metropolitan area need not apply. The company already marks these areas as its exclusive local zones. Once accepted, installer partners and their corresponding exclusive areas shall be listed on the company website and press release will be issued to that effect.
Sales referral program. Health care providers, nurses and retirement home representatives may participate on Comfort Walk in Tubs referral program. A generous commission awaits individuals that will provide the company with leads that will convert to sales. As of the moment Comfort Walk in Tubs is not looking for sales agent. The company desires only referrals from health care professionals that have studied their walk in bathtub products and has been convinced that the products will be of benefit for seniors.
Interested parties may apply online at http://comfortwalkintubs.com/partner-program/ or by calling Mel Newman's toll free number, 888-399-1211.
Connect with Comfort Walk in Tubs' Social Business Network.
Manta Connect - http://www.manta.com/c/mrn0cjx/comfort-walk-in-tubs
LinkIn Network - http://www.linkedin.com/company/comfort-walk-in-tubs
Google Plus - Comfort Walk in Tubs Official Google Company Page
About Comfort Walk in Tubs
Comfort Walk in Tubs is the nation's leading provider of affordable high quality walk in tubs for seniors and provides expert installation of walk in tubs in South California and Philadelphia–Camden–Vineland (PA-NJ-DE-MD) metropolitan area.
###