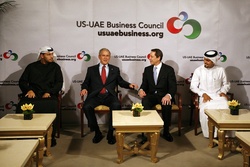 Our relationship with the UAE is a strong one, and it's clear that our economies will only become more interrelated as companies continue to see real returns in our cross-border trade and investment
WASHINGTON (PRWEB) January 14, 2008
Written by Dr. Michael Moore, Director of the Institute for International Economic Policy at The George Washington University, the report, "The US-UAE Trade and Investment Relationship," notes that the UAE's efforts to diversify its economy in recent years have led to growing business opportunities for U.S. companies, especially in the services industry. The report also states that the increased pace of UAE investments in the U.S. demonstrate the UAE's ongoing commitment to being a steadfast investor in the U.S. marketplace.
"Our relationship with the UAE is a strong one, and it's clear that our economies will only become more interrelated as companies continue to see real returns in our cross-border trade and investment," said Joseph Robert, Jr., CEO of JE Robert Companies and Council Co-Chair.
The US-UAE Business Council is also calling on the U.S. government to broaden and strengthen its ties in the region - to better reflect the existing and longstanding economic relationship.
According to Khaldoon Al Mubarak, CEO of Mubadala Development Company and Council Co-Chair, "The economic relationship between the United Arab Emirates and the United States has never been stronger. As we look to the future, the business communities in both of our countries will continue to benefit from an environment in which increasingly open investment and economic cooperation are not just accepted, but actively encouraged."
The complete report can be downloaded in .pdf form at http://www.usuaebusiness.org/view/resources/uploaded/ USUAEWhitepaper.pdf (Due to its length, this URL may need to be copied/pasted into your Internet browser's address field. Remove the extra space if one exists.)
The US-UAE Business Council, an independent, non-profit organization housed at the U.S. Chamber of Commerce, is a membership organization of leading companies in the two countries. The Council's mission is to advance bilateral commercial interests by monitoring and advocating trade and investment policies central to the countries' relationship. For more information, visit http://www.usuaebusiness.org.
ED NOTE: Please reach the media contact for expert availability and for all interview requests.