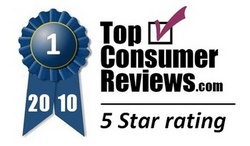 We're pleased to receive TopConsumerReviews.com's highest rating
Overland Park, KS (Vocus) May 7, 2010
TopConsumerReviews.com, LLC recently awarded their highest five-star rating to Commercial Debt Counseling, an industry leader in Business Debt Management companies.
"We're pleased to receive TopConsumerReviews.com's highest rating," said Eric Michael Pemper, President of Commercial Debt Counseling. "Commercial Debt Counseling is dedicated to helping businesses struggling from the pressures of business debt succeed to find financial stability and success. Our program puts your business in control of what creditors you want assistance with, which vendors and suppliers you need to make happy, the amount of funds available, and when they will be available. Our focus on customer service and keeping your company's goals in mind is unique in our industry. We help you get back on track for long-term business success, and appreciate being recognized for our efforts."
Many businesses today receive assistance from business debt management providers that can turn around their financial picture. These companies provide assistance negotiating with creditors, businesses, and suppliers, to get your company back on the right track. They are also sensitive to maintaining positive relationships with those important vendors that can make or break your inventory.
"Commercial Debt Counseling is staffed with experienced arbitrators and offers the highest quality, most affordable business debt management service available today," explained Brian Dolezal, of TopConsumerReviews.com. "As a member of both TASC and Dunn & Bradstreet, Commercial Debt Counseling has a long history of successfully restructuring business debts with corporate credit cards, vendors, suppliers, business lenders, and collection agencies. Once you hire Commercial Debt Counseling you can get back to focusing on the business and leave the creditors to the experts."
To find out more about Commercial Debt Counseling and other Business Debt Management companies, including reviews and comparison rankings, please visit the Business Debt Management category of TopConsumerReviews.com at http://www.topconsumerreviews.com/business-debt.
About Commercial Debt Counseling
Centered in San Diego, California, Commercial Debt Counseling (a division of Curadebt) is a center for helping consumers and business owners nationwide become debt free without filing bankruptcy. Managing in excess of $100 million of consumer and small business debt each year, Curadebt provides a free Debt Freedom Plan consultation, free Debt Freedom Teleconferences, a free newsletter, Secret Money Tips, and other valuable information.
About TopConsumerReviews.com
TopConsumerReviews.com is a leading provider of independent reviews and rankings of hundreds of consumer products and services. From home security and credit repair, to passports and video spokesperson, TopConsumerReviews.com delivers in-depth product evaluations in order to make purchasing decisions easier.
###