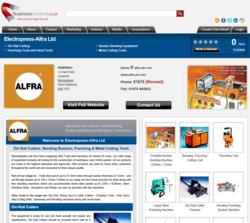 We wanted to provide our clients with much greater flexibility regarding their adverts which ultimately allows them to tailor their page to closely reflect their own unique branding
Stevenage, Hertfordshire (PRWEB UK) 23 April 2013
UK based online business-to-business directory, Businessmagnet.co.uk, has greatly enhanced the design of its adverts for paying customers to deliver the kind of impact required on today's highly competitive internet.
Launched in 2003, Businessmagnet has grown year on year into one of the UK's top online business to business directories. This continual growth has been brought about by its commitment to staying at the forefront of its field and providing a high-class service that yields an industry leading return on investment for its clients.
The latest of the company's service enhancements has come in the form of a complete overhaul of the way in which its paying customers can control how their content is displayed on the directory. Those on the directory with paid accounts now have even greater customisation of their listing's numerous features and can even select a colour scheme that matches that of their own website.
"We wanted to provide our clients with much greater flexibility regarding their adverts which ultimately allows them to tailor their page to closely reflect their own unique branding," stated Director Daniel French.
Obviously there have been big changes on the surface, in what can be seen by users of the site, but significant changes have also been made behind the scenes with source code being completely rewritten to greatly increase performance, various browser compatibility and user experience.
The website design team at Businessmagnet were particularly focused on making sure that users of the directory were drawn to their clients' key information as soon as they viewed one of these newly styled adverts. The new layout has the most important information just below the company name with the contact details placed in a prime location; right in the users line of sight whenever they access a listing. Aside from the usual telephone number and email address, there are now icon links to the client's own social network pages and a clearly labeled 'contact us' button. Clicking this contact us button brings up a new dedicated contact information box that provides users with extra details about opening times, an option to get directions and a full contact form. This now means that anyone visiting one of these new pages can make an enquiry direct with the listing's owner without ever having to leave the directory.
The end result of these new features is that the quality of enquiries Businessmagnet's paying customers are experiencing has seen a marked improvement. "The redesigned pages and new contact forms has had a dramatic effect on the quality of enquiries our clients have been receiving," Mr. French revealed. "And in turn, the feedback they've been giving us has been extremely positive."
If you are a company based in the UK and supply on a business to business basis and would like to register for a free advert, follow the link below:
http://www.businessmagnet.co.uk.