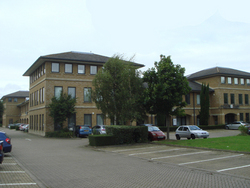 (PRWEB) August 20, 2008
Founded in 2003, Businessmagnet (http://www.businessmagnet.co.uk)], the brain-child of Daniel French and Lee Cheesman, has grown in size to the point that it is now the second largest on-line business-to-business directory in the UK. To cope with this growth, it is moving across Stevenage from its offices in Cromer House to a new, larger location in Meadway Technology Park. The purpose of this move is to provide more space for much needed staff to handle the ever increasing demand for its services.
Since winning 'Internet Business of the Year 2005' at the Hertfordshire Business Awards, Businessmagnet has continued to expand its client base year upon year. Thanks to a dedicated and focused customer service team, revolutionary monitoring tools and a powerful but easy to use website, it has been able to maintain an 85% level of customer retention. After five years in the business-to-business advertising field, Businessmagnet has a subscriber-base of over 80,000 and provides a directory of over 35,000 products and services. This translates to over two-million page views per month which means more views per advertiser than any other B2B directory in the UK.
The majority of customers have renewed their directory listing year after year because Businessmagnet has continually managed to exceed their expectations. For many companies that advertise in its directory, it has now become their primary form of advertising, and in some cases their sole advertising outlet. This has given these companies freedom to invest that money they are now saving into other areas without risking their level of advertising exposure. For many small to medium sized start-up companies this can be the difference between success and failure in these worsening economic times.
As Businessmagnet grows it increases its visibility on the Internet and this in turn means greater and greater exposure for every one of its clients who have listings in its directory. This is a part of the industry that Businessmagnet knows is hugely important, and because of that their web design team invests a great deal of time increasing their ratings on Google, Yahoo and other popular search engines through specifically designed web pages that meet the needs of B2B advertising. Furthermore, clients are given a high level of detail and instantaneous access to data regarding their account through the itrakaTM monitoring system. This gives them visibility of exactly how many responses their listing is generating and in turn allows them to see clearly just how effective advertising with Businessmagnet really is.
With an eye on the future, Businessmagnet is looking to improve its services even further and move to the head of the UK on-line B2B advertising field. Sales Director, Daniel French, stated "It is our goal to be the number one business-to-business directory in the UK by the end of 2009". After seeing 106% growth in profits for the 2007-2008 financial year, it appears that they are well on their way to achieving that goal.
# # #