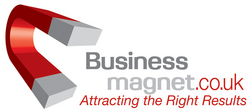 Advertisers are more likely to invest in the packages we offer because we deliver the best ROI available in the UK today
Stevenage, Hertfordshire (PRWEB) October 23, 2009
http://www.businessmagnet.co.uk has yet again shifted into a higher gear during the third quarter of this year and believes this is a good indication that UK businesses are leaving the recession behind them.
The Hertfordshire based internet directory firm recorded its best revenue and profit results since launching six years ago. The company's sales director and co-founder, Daniel French said "These results are the strongest indication yet that the internet advertising market is truly bouncing back from the recent downturn. Our financial performance reflects the performance and return we deliver for our customers - they are spending with the directory because their advertising with us works for them".
The firm invests heavily in developing their technology platform and optimisation with the leading search engines, which translates into delivering better performance for their customers than any other UK business to business directory. The firm is widely viewed as being further advanced in the recovery of the internet advertising sector than other companies that depend on internet advertising.
French and other Businessmagnet executives left no doubt that they believe the company is poised to reach even greater financial heights in the next year or two.
Feeling bolder than ever about the business, French said the firm will continue to increase the size of its workforce in all areas. "Advertisers are more likely to invest in the packages we offer because we deliver the best ROI available in the UK today".
Spending on print advertising and other traditional marketing vehicles continues to be slow, with an uncertain future for many media owners.
If you are a business to business company in the UK or Ireland you can register your company for a complimentary listing using the simple to use account registration system.
# # #