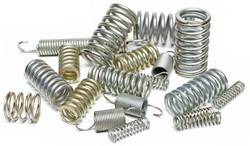 We achieve up to 3.5million page views and 1million unique users each month – the Program helps to give our visitors the opportunity to make a more informed choice of supplier
(Vocus) November 16, 2010
Recognised as the business support organisation for UK spring makers, the UKSMA is often viewed as an extension of the members own technical and commercial facilities.
Through their Industry Associations Program (IAP), internet directory http://www.businessmagnet.co.uk provides visitors with a visual recognition of the numerous industry association memberships and trade accreditations held by its clients.
The Program encourages browsers looking for potential suppliers of products and services to understand just what their various memberships and accreditations may mean to them as a customer.
Daniel French, co-founder at Businessmagnet said "We introduced the Program to further reinforce our position as the leading b2b directory in the UK. The UKSMA's objectives fit perfectly with what we are achieving through the Program - we are giving members of this and many other organisations the opportunity to illustrate their status in their sector and show that they are proud to be members of their association"
He added "We achieve up to 3.5million page views and 1million unique users each month – the Program helps to give our visitors the opportunity to make a more informed choice of supplier".
The award winning directory has built the business over the last 7 years working with a large and diverse range of business to business firms. "We have over 120,000 businesses catering for over 50,000 different product and service categories featured on the directory. Through the Program, each of the associations who represent these firms has the opportunity to illustrate why a customer should choose a member as a supplier rather than a non-member" stated French.
The Program is free of charge for associations and their members to participate - by taking part, members also benefit from a larger allocation of keywords and 'about us' description in their complimentary listings.
For more information about the Directory, visit http://www.businessmagnet.co.uk. For more information about the UK Spring Manufacturers Association, visit http://www.uksma.org.uk/ If you would like information about adding your association or industry body and your members to the directory, contact simon.dunn@businessmagnet.co.uk.
More about Businessmagnet
Considered as the UK's premier b2b directory, Businessmagnet delivers more page views and unique users per advertiser than any of its competitors. This lack of dilution is a key factor in delivering unrivalled performance for its customers. Businessmagnet was the first directory to introduce an Industry Associations Program, with the number of oranisations taking part growing steadily.
Businessmagnet is precisely optimised to elevate advertisers positioning in the natural search results with the World's leading search engines. The business directory contains content catering exclusively for the b2b sector in the UK and Ireland with customers range from one-man businesses to some of the best known SMEs and organisations in the world.
Businessmagnet Limited, 9 Meadway Court, Meadway Technology Park, Stevenage, Hertfordshire SG1 2EF. http://www.businessmagnet.co.uk
###