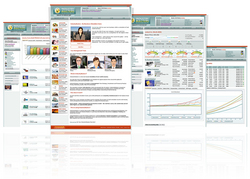 Each year IIMA's global on-line competition is getting more challenging for the participating students
Florianopolis, Brazil (PRWEB) October 30, 2008
Tycoon Systems Ltd. and IIMA announce that for the third year running a Tycoon Systems business simulation has been chosen by the influential Indian Institute of Management Ahmedabad (IIMA) as the basis for their annual on-line business competition. From October 30th to November 9th 2008, more than 1500 students from leading business schools across the globe are playing against each other in a real-time multi-player competition.
"Each year IIMA's global on-line competition is getting more challenging for the participating students," said Thomas Lehnert, CEO, CTO and founder of Tycoon Systems. "IIMA uses our IndustryMasters business simulation game during the run-up to their 2008 Confluence conference, Asia's largest business school summit. IndustryMasters is a web-based business game and allows students from leading business schools in America, Europe, Asia and Australia to compete simultaneously within a simulation of real world economy."
The Indian Institute of Management Ahmedabad (IIMA) believe that business executives can gain unique and essential business experience through sophisticated real-time business simulations. IIMA have chosen Tycoon Systems online business simulation game as the basis for their hardfought business competition, because IndustryMasters is the only on-line business strategy game that brings real-world economic systems into a dynamic, multi-player experience.
In past years IIMA has organized competitions each involving over 1500 students from more than 20 countries. Prizes for the winning teams included sponsored travel to the IIMA Confluence summit in India. In 2007, teams from Australia (AGSM, BGSM), China (Ceibs), England (Manchester BS), Pakistan (Lahore BS), South Korea (SKK) and the USA (Columbia, Ross, UCLA) have won free travel to the Confluence summit.
Tycoon Systems is a business education software company and provides web-based business simulation games for usage in business schools and in executive education - and for individual learning. Tycoon Systems' flagship product IndustryMasters is a powerful developmental experience for next-generation executives. The simulation develops entrepreneurial and strategic management skills through an exciting learn by playing experience.
"The Competition Edition of IndustryMasters is an innovative, ready-to-use concept for large scale business school contests and for corporate events." said Martin Maiburg, Director Marketing & Licensing of Tycoon Systems. "We can easily customize and co-brand the game to make every competition a unique and fascinating user experience."
About Tycoon Systems:
Since 2005 Tycoon Systems provides business simulation technologies with a specific focus on educational business games. It's founder, Thomas Lehnert, has been CEO, CTO and Chief Developer in the business simulation software industry over the past 16 years. Tycoon Systems Ltd. is a privately-held company based in Florianopolis, Brazil.
About the Indian Institute of Management Ahmedabad (IIMA)
Founded 1961 in Ahmedabad, IIMA collaborated with Harvard BS during its formative years. IIMA is widely considered to be the premier institute of management education in India. Over 200,000 people apply each year for admission and compete for about 250 seats.
More ressources:
Tycoon Systems Homepage
IndustryMasters Homepage
###