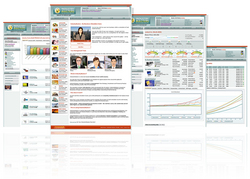 Wilmington, DE (PRWEB) October 23, 2009
The Indian Institute of Management Ahmedabad (IIMA) and Tycoon Systems announce the launch of Mousetrap 2009, the flagship event of IIMA's annual business conference, Confluence 2009.
Mousetrap, a global business strategy competition presented by IIMA and Microsoft, is an on-line business simulation game that involves business school students across the globe.
For the forth year IIMA has chosen a Tycoon Systems business simulation game as the basis of its Mousetrap business competition during the run-up to the Confluence conference. The game has been developed by Tycoon Systems based on its IndustryMasters business simulation to represent the theme of an economy re-emerging from the depths of recession.
''We have customized our IndustryMasters business simulation platform according to the theme of IIMA Confluence 2009: Survive. Sustain. Succeed,'' said Thomas Lehnert, founder and CEO of Tycoon Systems. ''The business game is based on the real historical scenario from January 2008 onwards and simulates the challenges that companies face during the current economic downturn.''
The IIMA Mousetrap 2009 business strategy game puts students into role of running a globally operating corporation from January 2008 until December 2012. It addresses fundamental business issues such as lower profit margins due to an increased level of competition in world markets, rising commodity prices and the rising relevance of sustainable strategies in order to build competitive advantage.
The on-line nature of the game attracts participation in the event from across the globe giving the IIMA exchange students an opportunity to be a part of the action as well. Of the 600 teams registered for the event this year, nearly 70 are from American and European business chools. With 1,800 players in 600 teams representing leading business schools around the globe, the competition is intense and the rewards attractive.
About Tycoon Systems Inc
Since 2005 Tycoon Systems provides business simulation technologies with a specific focus on business education. It's founder, Thomas Lehnert, has been CTO, Chief Developer and CEO in the business simulation software industry over the past 17 years. Tycoon Systems Inc is a privately-held company based in Wilmington, USA.
About the Indian Institute of Mangement Ahmedabad (IIMA)
Founded 1961 in Ahmedabad, IIMA collaborated with Harvard BS during its formative years. IIMA is widely considered to be the premier institute of management education in India. Over 200,000 people apply each year for admission and compete for about 250 seats.
More info:
Confluence Homepage
IndustryMasters Homepage
###