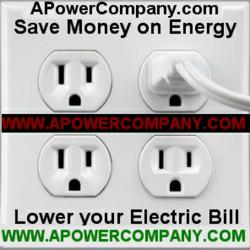 We are one of the lowest suppliers of electricity for companies and homes" A Power Company
Connecticut (PRWEB) December 15, 2011
APowerCompany.com partners with local utility companies in an effort to lower energy cost for consumers, businesses and power companies. APowerCompany.com gives home owners and businesses the ability to lower their energy costs without change or time. This capability provides all of the same energy services at a lower rate. The reason A Power Company is able to do this is because electricity has been deregulated in 17 states to increase competition and lower electric prices. APowerCompany.com allows consumers to lower their current electricity bill with all the same reliability. APowerCompany.com provides a service to keep all of your current services in place but gives consumers that ability to lower electric bill by changing the rate they pay.
Money Saving tips, Energy Deregulation = Decreased Power Rates.

Shop multiple electric supply companies to get the lowest pricing.
Setup a fixed electricity rate for the winter.
Winter months have the lowest electric rates.
APowerCompany.com reveals that fact that Deregulation leads to Decreased Power Rates for the consumer. APowerCompany.com offers a free Energy Discount for Home Electricity or Business Power. APowerCompany.com reveals that anyone can save and reduce utility bills. APowerCompany.com allows consumers to get a $50 signup bonus with a lower fixed price protection.
APowerCompany.com shows that 17 states have deregulated electricity. This deregulation opens up vast saving opportunities and APowerCompany.com is the leading provider in showing consumers how to take advantage of his deregulation.
With the winter months approaching A Power Company becomes a must visit for consumers looking for lower electricity rates. Some states that may qualify for reduced home rates include Connecticut, Maryland, Illinois, New York, New Jersey, Texas and Pennsylvania.
APowerCompany.com allows a free sign up to explore the possibility of lower rates. The 17 deregulated States where savings is a possibility for business are Connecticut, New Jersey, Delaware, Illinois, Maine, Oregon, Texas, Arizona, Washington D.C., Maryland, New York, Pennsylvania, Massachusetts, Rhode Island, Michigan, Virginia, New Hampshire and Ohio. A Power Company makes it possible to save money if you are a resident or a business in one of these deregulated states. Compare Electricity Rates and electric pricing online and save money with a lower cost to power home and business.
###