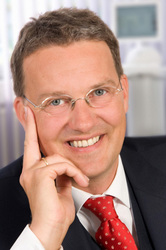 The practical reference as well as the relevance of implementation that make the book stand out from the many theoretical works.
Dortmund, Germany (Vocus) December 21, 2009
The Mandat Consulting Group (Mandat Managementberatung GmbH) of Dortmund, Germany, is presenting its first book in English. "Plan Lead Grow – Systematic Approaches to Success" is the title of the internationally available book that will come out in the next few days. The new work by Mandat is based on the German book "Planen Führen Wachsen – mit Methode zum Erfolg" that was published in spring 2009 and has quickly acquired an excellent reputation with its readers.
"We removed some chapters from the German edition and added new chapters touching on international issues," says the author of the book, Dr. Guido Quelle. In publishing this book, Dr. Quelle, managing shareholder of Mandat, and his co-authors consistently continue on their path of further internationalization of the consulting company.
"By publishing 'Plan Lead Grow,' we want to strengthen our presence on the international scene," the consultant and author explains. "The book combines material findings from twenty years of consultancy experience. Particularly our colleagues from the U.S.A. and Australia have let us know that we would meet significant demand with our book," Dr. Quelle continues.
When asked what makes the book so special Dr. Quelle does not hesitate to explain: "It is the practical reference as well as the relevance of implementation that make the book stand out from the many theoretical works. Results are achieved not so much through knowing about the given facts but by applying practical skills. We therefore introduce procedures that can immediately be put into practice," Dr. Quelle says with assurance.
According to Dr. Quelle, experience has shown that the implementation of changes takes much more time than expected and meets with greater resistance internally than anticipated. This hurdle, Dr. Quelle says, was the starting point of the book, which builds a bridge from the conception of corporate changes all the way to their implementation. Dr. Quelle points out that the methods presented had proved to be successful in consulting projects and had led to significant results.
"Plan Lead Grow" contains more than 30 articles on strategy, leadership, organizational development, innovation, and growth. Published by Monsenstein and Vannerdat under ISBN 978-3-86582-970-2, the book is available at local bookstores or online at a cost of US $29.95, GBP21.99, €24.90. It can also be ordered directly from Mandat at: [email protected]
About the author:
Dr. Guido Quelle has been an entrepreneur for more than 20 years. Working as a consultant, author, speaker and expert for profitable growth, he supports active business managers in making their enterprises fit for sustainable growth. Dr. Quelle is the first European member of the Million Dollar Consultant® Hall of Fame and a member of the Million Dollar Club.
About Mandat:
For 20 years, Mandat Managementberatung GmbH of Dortmund has been helping its clients to achieve profitable growth. So far, over 300 strategy and organization projects have been supported. Mandat has over 100 German and multinational clients such as British-American Tobacco, CBR Group, Deutsche Post World Net, DHL Express, European Dental Partners, Mercedes-Benz, Volkswagen or the Erasmus University at Rotterdam as well as a large number of middle-sized companies.
Photo credits: © 2009 Mandat Managementberatung GmbH, Dortmund, Germany
###