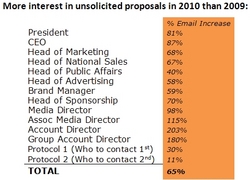 "We've seen a remarkable increase in high-level executives being recommended as the first person to whom to present a special opportunity for advertising or sponsorships." Mary Ann Cavlin
New York (PRWEB) September 27, 2010
A recently completed, independent survey conducted for SALES-FAX NEWSTM revealed that the higher the level of influence, the more open the executive is to unsolicited proposals..
As the publisher of the only directory to advertisers and agencies with permission-based emails, Power Brands & Agencies, SALES-FAX NEWSTM periodically engages a well-respected New England research company to poll executives at all decision-making levels to ask if they would allow their emails to be published in a directory published exclusively for sellers of advertising and sponsorships.
What a difference a year makes. 10,000 more executives gave SALES-FAX NEWSTM permission to publish their emails in Power Brands & Agencies in 2010 than in 2009.
High-level execs apparently know, in times like these, they better leave no stone unturned in finding the best deal for their company or client. Is it because headcounts are down, and the number of hats worn by those who remain are up? Mary Ann Cavlin, Editorial Director at SALES-FAX NEWSTM, speculates the answer is not so simple.
"When we profile decision makers at an advertiser or agency, our reporters always ask, "who should our readers see first if they don't know anyone at your company?'"
"We've seen a remarkable increase in high-level executives being recommended as the first person to whom to present a special opportunity for advertising or sponsorships. This can't be simply due to reductions in staff," Ms. Cavlin adds, "This year, 10,000 more people agreed to let us publish their email specifically for the purpose of evaluating unsolicited proposals than they did a year ago."
"Importantly," Ms. Cavlin concludes, "A year ago you would see a lot more media planners, or associate media planners listed as the first person to see. The trend we see is that advertisers and agencies want our readers to start at the top."
About SALES-FAX NEWS:
SALES-FAX NEWS is an online news magazine, published five times per week exclusively for sellers of advertising, sponsorships or marketing services. The focus is on the future to provide the best known names in media with "must have" intelligence for getting their most competitive proposals to the right people before planning --- and buying --- are complete. Our staff of reporters interview decision-makers, as well as influencers, at the Brands and Agencies to determine who's in planning, or will be soon. Subscribers are also supported by the unique Power Brands & Agencies Directory, which features key contact & planning information to help them with prospecting, and contact management. All SALES-FAX NEWS content is compiled via interviews and research by the employees of Ad-Fax Media Marketing, Inc. located at 149 Madison, Suite 801, NY, NY 10016.
For more information, contact : Cameron Bennett, Marketing & Communications, 212 684-9665
To learn more about SALES-FAX NEWS visit : SALES-FAX.COM
# # #