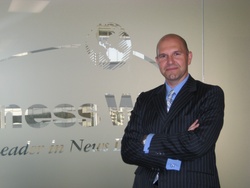 Leon's tireless efforts as an advocate for our tradeshow and event business has produced fantastic results for us, our partners and our clients
LOS ANGELES (PRWEB) June 5, 2008
Business Wire's trade show and events division has consistently delivered double-digit sales growth over the years. Harbar has been critical in product development, sales training and partner management. He also oversees Business Wire's long-standing partnership with Virtual Press Office for joint marketing to event organizers and exhibitors. Harbar leads an in-house team that features long-term Business Wire veteran Jim Liebenau as manager of trade show operations.
"Leon's tireless efforts as an advocate for our tradeshow and event business has produced fantastic results for us, our partners and our clients," said Cathy Baron Tamraz, Business Wire's president and chief executive officer.
"He certainly racks up the frequent flier miles, traveling the world to secure critical agreements with the major event organizers for technology, biosciences and financial conferences and trade shows. Under his leadership, Business Wire, along with our partner Virtual Press Office, dominates the market in event-related press release distribution, online press kits and virtual media room management," Tamraz added.
Harbar, who reports to Tom Becktold, Senior Vice President, Marketing, joined Business Wire in 1993 as an Account Executive in the Los Angeles office. In 1998, he was promoted to Regional Manager of the Charlotte, NC bureau, returning to Los Angeles in 2001 as Manager of Trade Show Services. Harbor earned a BS in Marketing from The Ohio State University, Columbus, OH.
About Business Wire
Business Wire, a Berkshire Hathaway company, is utilized by thousands of member companies and organizations to transmit their full-text news releases, regulatory filings, photos and other multimedia content to journalists, news media, trade publications, institutional and individual investors, financial information services, regulatory authorities, Internet portals, information web sites, business-to-business decision-makers and consumers worldwide. With a news distribution network spanning 150 countries and 45 languages, Business Wire's multi-channel delivery network has access to dozens of international and national news agency networks throughout the Americas, Europe, Asia, the Middle East and Africa.
The Business Wire news network is powered by its patented NX high-speed data platform and supports XML, XHTML and XBRL code to deliver the most sophisticated news file to enhance news release interactivity, customization and search engine optimization. Business Wire has 31 bureaus in cities including New York, San Francisco, Los Angeles, Chicago, Boston, Miami, Paris, Frankfurt, London, Brussels, Tokyo, Toronto and Sydney with reciprocal offices throughout the world. Business Wire was founded in 1961.
MULTIMEDIA GALLERY http://www.businesswire.com/cgi-bin/mmg.cgi?eid=5702695