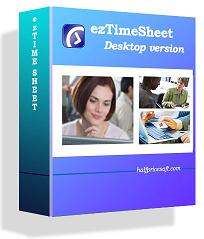 New York, NY (PRWEB) June 24, 2011
With ezTimeSheet, the easy-to-use employee attendance tracking software from halfpricesoft.com (http://www.halfpricesoft.com), business owners or HR managers can save time and reduce labor, accounting errors and mistakes. ezTimesheet software helps users free up human resources for higher productivity and more sustainable savings during this economic difficulty.
Halfpricesoft.com released the new version of ezTimeSheet software, which contains several new features that make employee attendance tracking, payroll processing and tax report filing even easier and faster. The new edition include more flexible edit function, permission control, report feature and timesheet lock/unlock features, which is available for free download from http://www.halfpricesoft.com/time-tracking-time-sheet-download.asp, with no cost and no obligation.
"HR Management is important for any business and organization; however employee time and attendance tracking can be very time-consuming. We believe small business should focus their time and energy on running their businesses, not trying to figure out how to run payroll software" explains Dr. Ge, president and founder of halfpricesoft.com. "We intentionally engineered ezTimeSheet software for those end-users who are not professional accountants and HR expert, so small businesses can set up ezTimeSheet quickly and easily."
Known for affordability and ease-of-use, ezTimeSheet employee attendance and time tracking software was designed specifically for small business owners, non-profits and HR department managers. One of the main goals of ezTimeSheet software designers is to make sure that the product is easy to use - even for people who may not have much experience.
ezTimeSheet has an amazing array of features that make time-tracking and payroll tasks simple and easy, including:

Easy-to-use graphical interface that allows employees to punch in and punch out via computer
Automatic time tracking that automatically calculates gross payroll figures
Automatic check for duplicate and overlapping time entries
Administrator can enter and edit time data when necessary
Administrator can add notes to individual time entries
Flexible report features that are easy to use
Export report data to Excel, PDF or image formats for analysis and sharing
Export payment data to .CSv file for use with other software
Separate password protection for administrator and employees
Equipped for network access
Backup feature to protect database
Free updates
To make ezTimeSheet software available for any size business, Halfpricesoft.com give buyers a new way to get free products by partnering with TrialPay, the leader in alternative online payments. Buyers can now get 10-user version time tracker software for Free when they try or buy an offer from one of TrialPay's 2,000 blue-chip advertisers.
"It's a win-win-win-win situation: the customer gets free product, we make sales, the TrialPay advertiser makes sales, and TrialPay gets commissions. " said Dr Ge, the founder of halfpricesoft.com. "In a down economy, companies need to streamline and increase efficiency, so they can be more productive with every minute and every dollar. ezTimeSheet can save user time and money. We hope more users can take advantage of this employee attendance traker software through this free offer."
About halfpricesoft.com
Based in Louisville, Ky., Halfpricesoft.com develops and distributes a wide range of small business software titles that are affordable and easy-to-use. Besides ezTimeSheet Employee Tracking Software, titles available from Halfpricesoft.com include payroll software, check writing & printing software, W2 & 1099 preparation software and barcode label printing software.
Get the 10-user version of ezTimeSheet for free from the Halfpricesoft.com website now: http://www.halfpricesoft.com/time-sheet-tracking-software.asp
###