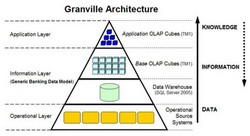 Given the strength of these products and the head start Granville Associates has in the banking sector I am particularly optimistic that a buyer can be found quickly
London, UK (PRWEB) May 1, 2008
Granville Associates Limited has today entered into administration in the UK. Granville provides Business Intelligence software products to the banking sector. The software products were developed in house using "best of breed" software from Microsoft and IBM Cognos.
Granville's solutions extract and transform data from banking systems and use this to populate a banking data model to create a fully reconciled and reliable source of banking information.
Granville has no direct competitor at this time being significantly ahead of the market place. The company has accrued significant technical expertise that would be difficult for a potential competitor to replicate quickly.
The turnover for 2007 was £1.40m, with a forecast for 2008 of £2.06m.
The projected turnover for 2010 is £4.75m.
Granville has already sold and successfully installed products into eight banks including five with further work for 2008. At the end of the first quarter 2008 the sales pipeline stood at £3.65m with £800k contracted subject to letters of intent.
Granville market to 350 tier 2 and 3 banks using Midas and Midas Plus as their core system. An additional market of around 2,000 tier 2 and 3 banks using Temenos, Calypso core banking applications will be addressable once the requisite ETL adaptors have been developed.
More information is available at http://www.granvilleassociates.co.uk.
Michael Charles of Amco Agency Ltd and Dana Gordon-Davis of Novitas Partners LLP has been appointed by the joint administrators Stephen Mark Katz and David Birne of Fisher Partners London to dispose of the company or its assets.
Interested parties should contact either:
Michael Charles of Amco Agency
Telephone +44 (0)8452 300 700 or Email: mc @ amco-agency.co.uk.
Dana Gordon-Davis of Novitas Partners LLP
Telephone: +44 (0)207 959 2272 or Email: dgd @ novitaspartners.co.uk.
Michael Charles said "Given the strength of these products and the head start Granville Associates has in the banking sector I am particularly optimistic that a buyer can be found quickly".
Michael Charles, F.N.A.V.A
Amco Agency Limited
Suite 501 International House
223 Regent Street
London
W1B 2QD
Telephone +44 (0)8452 300 700
Website: http://www.amco-agency.co.uk
Email: mc @ amco-agency.co.uk
# # #