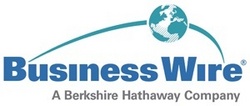 The result is greater transparency, and more efficient markets.
NEW YORK (PRWEB) May 14, 2008
Today's SEC proposal calls for the gradual implementation of XBRL, with the largest U.S. GAAP filers (defined as those with a worldwide public float over $5 billion) submitting XBRL versions of financial reports to the SEC's EDGAR system for fiscal periods ending in late 2008.
If adopted, the first interactive data provided under the new rules would be made public in early 2009. The remaining companies using U.S. GAAP would provide this disclosure over the following two years. Companies using International Financial Reporting Standards (IFRS) as issued by the International Accounting Standards Board would provide this disclosure for fiscal periods ending in late 2010.
As the only commercial newswire with its own in-house proprietary XBRL solutions, Business Wire is uniquely positioned to help corporate issuers make the switch to interactive regulatory filings and news delivery.
Business Wire formed CoreFiling in 2005, in association with UK-based DecisionSoft, the world's premier XBRL components vendor. CoreFiling (http://www.corefiling.com) provides a range of expert consultation and implementation services to regulatory agencies and listed companies worldwide.
Several blue-chip companies participating in the SEC Voluntary Filing Program have already utilized Business Wire's XBRL services. Business Wire's SEC submissions include tagged 10-Q or 10-K data in XBRL format and/or earnings releases in XBRL format.
In addition to regulatory filings, Business Wire's patented NX news delivery platform is capable of transmitting XBRL-enabled documents, e.g. earnings statements, to the global media and investment community, simultaneously and in real-time.
"Interactive data represents a giant step forward for investor relations professionals, who are now able to tell their story directly and precisely, in a language that is universally accepted," said Michael Becker, Business wire's vice president, global disclosure services. "The result is greater transparency, and more efficient markets."
About Business Wire
Business Wire, a Berkshire Hathaway company, is utilized by thousands of member companies and organizations to transmit their full-text news releases, regulatory filings, photos and other multimedia content to journalists, news media, trade publications, institutional and individual investors, financial information services, regulatory authorities, Internet portals, information web sites, business-to-business decision-makers and consumers worldwide. With a news distribution network spanning 150 countries and 45 languages, Business Wire's multi-channel delivery network has access to dozens of international and national news agency networks throughout the Americas, Europe, Asia, the Middle East and Africa.
The Business Wire news network is powered by its patented NX high-speed data platform and supports XML, XHTML and XBRL code to deliver the most sophisticated news file to enhance news release interactivity, customization and search engine optimization. Business Wire has 31 bureaus in cities including New York, San Francisco, Los Angeles, Chicago, Boston, Miami, Paris, Frankfurt, London, Brussels, Tokyo, Toronto and Sydney with reciprocal offices throughout the world. Business Wire was founded in 1961.