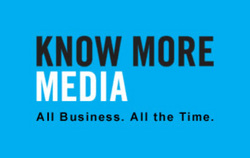 When I first joined Know More Media in August of 2006, I was immediately impressed with the quality of the content, which has continued to improve over the last year and a half
Orange County, CA (PRWEB) December 19, 2007
Know More Media, an online publisher of business information and news, and one of the world's leading business blog networks, celebrated its two-year anniversary on Dec 14, 2007. The company provides business-related analysis, opinion, and information through its network of niche business blogs written by authorities and business experts in each respective blog topic or industry.
Know More Media's official launch was on Dec 14, 2005, when the company started with 38 niche business-related blogs. Since that time, the company has grown to own and operate over 100 business blogs with over 60 business authors writing on them from across the USA and the world. At this two-year anniversary, the company announced that its writers have published over 61,000 blog posts that have attracted over 41,000 comments. In terms of online traffic, the Know More Media network has received over 15.1 million unique visits and over 24.5 million page views. In the past year, the company announced a new partnership with the blog network b5media, as well as a syndication partnership with Newstex. Know More Media also was a media sponsor and exhibitor at the inaugural Blogworld & New Media Expo in Nov 2007.
"It is humbling and exciting to be a part of such a talented group of business experts," said Hal Halladay, CEO of Know More Media. "We look forward to sensing and responding to market changes and conditions. With a unified vision and focus on providing niche business content, I expect we will continue to grow our audience and the authority of our authors and the Know More Media network."
"The last year of business for us has brought numerous milestones and accomplishments by our network and our individual authors," said Dan Smith, VP of Publishing of Know More Media. "Our authors have accomplished such things as published books, spoken at industry conferences, attended national awards shows, received industry awards, been elected to Boards of Directors, launched a new online TV program, been interviewed by major media sources, and been ranked highly in independent topical website and blog rankings. I'm proud to have such a top quality team of authors in our network."
"When I first joined Know More Media in August of 2006, I was immediately impressed with the quality of the content, which has continued to improve over the last year and a half," said Kimberlee Morrison, Associate Editor of Know More Media. "Perhaps most exciting is the opportunity we - Know More Media, other blog networks, and respective online authors - have to shape the future of mass media and make it better. As a journalist, I have always believed that part of what makes media so important are the many voices, opinions, and sources of news and information."
Easton Ellsworth, Editor of Know More Media, said, "Numbers and statistics represent people. Every visit and page view means a human visitor. Every feed and email subscription means a person who cares about a topic who has decided to invest some time in our blogs on a recurring basis. Every email, IM conversation, and phone call means a chance to connect on a personal level. And all these signals are amplified through the conversational power of blogging."
About Know More Media
Know More Media (http://www.KnowMoreMedia.com) is an online publisher of business information and news, headquartered in Orange County, CA. The Know More Media business blog network includes more than 100 niche business blogs that attract over one million unique visitors a month. Its expert business writers contribute valuable business-related blog content to the online world. Its writers are typically practicing authorities in their fields, who provide their business advice and knowledge to business readers through a various blog topics such as management, customer service, finance, advertising, international business, and entrepreneurship.
# # #