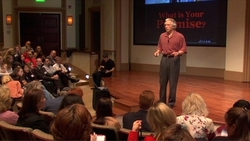 Good Fortune: How to Grow Your Business and Save the World at the Same Time
San Diego, CA (PRWEB) September 10, 2009
Will Marre, leadership expert, sustainability consultant and author of Save the World and Still Be Home For Dinner (Capital Books), will deliver the keynote speech at the Green Manufacturing Expo in Chicago on September 23, 2009. His speech, "Good Fortune: How to Grow Your Business and Save the World at the Same Time" is centered on using the powerful new trends of "green" values, game-changing technology, and disruptive innovation that are revolutionizing the way business makes money.
According to Marre, green business is the future of business strategy. In fact, he asserts that more money will be made and lost in the next 25 years than at any other period. He states, "Every product and service will be re-imagined, re-engineered and re-launched in the next several decades to create a sustainable future. That's the greatest economic opportunity in history."
David Refkin, Time Inc.'s first director of sustainable development, agrees. In Building a Green Business Future he states, "The environment issue is going to explode one day. Smart companies will be out in front."
The companies that are leading the pack, asserts Marre, are those that are going beyond green practices and embracing green business as their core business strategy. He states, "The real opportunities of going green are found in global companies who are racing ahead to a world where all products are non-toxic, carbon neutral, re-usable, sustainable and affordable."
One such company is Apple. Apple is constantly pushing the envelope by focusing on design, responsible manufacturing, energy efficiency, and recycling to develop new products and reinvent old products. The fourth generation iPod nano, for instance, is 32% lighter and uses 54% less volume than the packaging for the first-generation iPod nano, and between the first-generation and current-generation iMac, sleep-mode energy usage has decreased by 93%.
Marre's extensive experience with helping organizations re-invent their growth strategies has led him to develop a blueprint for turning green business practices into a new core business strategy he calls 10 New Things Every Business Leader Should Know. The list consists of the top trends and practices that forward leaning green businesses are using to create new markets with new customers or to erase competition all together.
Marre will also co-conduct a session with Paul Murray, Director of Environmental Safety and Sustainability at Herman Miller, Inc. Their topic is "The Power of One" which lays out a practical roadmap of how a single individual can create profound organizational change in the pursuit of "Green Transformation." In this presentation Marre will focus on three individuals who have transformed their organizations from the middle and, as he states, "without power and without permission."
The core of Marre's passionate message states, "The green debate is over and green won."
About Will Marré:
Will is an Emmy Award-winning writer, speaker and coach. He is the co-founder and former president of the Covey Leadership Center (The 7 Habits of Highly Effective People) and CEO of the REALeadership Alliance where he helps leaders identify, communicate and implement new socially strategic business models. Will has been a personal leadership coach and advisor to multi-billion dollar global companies such as Disney and Johnson & Johnson. For the past 10 years he has focused on making corporate social responsibility strategic. His new book, Save the World and Still Be Home For Dinner, is being released Sept. 30, 2009.
For more information on opportunities to have Will speak, please visit WillMarre.com, or for more information on Will's consulting practice, please visit Realeadership.com. You can also follow Will on Twitter (@WillMarre) and Facebook.
###