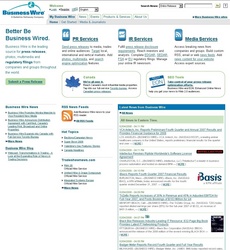 These layout changes improve the look-and-feel of the site and make it easier for our users to find content. They also help new users to better understand Business Wire's various products and offerings
NEW YORK (PRWEB) February 11, 2008
Multimedia and Sharing:
The first part of the website enhancement involved multimedia on Business Wire.com. The new multimedia gallery on the press release pages now includes all multimedia assets associated with the release. This enables more exposure to each asset immediately when users land on the page, which in turn can lead to increased asset views as well as media and blogsphere pick-up for photos, video, audio, logos, graphics, and more.
Additionally, new web2.0-style navigation menus in the multimedia gallery allow each of the various user groups that access businesswire.com to easily and quickly find the kind of multimedia format they need, using only one click. When hovering over a multimedia asset, the user can immediately see all the options to interact with that asset. For example, journalists can easily access high resolution downloadable multimedia files, bloggers can quickly find embeddable and linkable media, and end-users enjoy immediate viewing options.
The upgrade also includes a new Business Wire branded video player that allows a better viewing experience on BusinessWire.com, offers sharing options for bloggers to link to and embed videos on their own sites, and shows detailed video views on the measurement reports Business Wire provides its clients.
Redesign:
The website redesign portion of the project included creating a cleaner page layout that makes better use of white space on the page, reorganization of content categories, and highlighting Business Wire's core services on the home page. According to Mark Wehrmeister, VP of Web Services, "These layout changes improve the look-and-feel of the site and make it easier for our users to find content. They also help new users to better understand Business Wire's various products and offerings".
BusinessWire.com now also serves as an anchor for new country-specific sites, including http://www.businesswire.fr and http://www.businesswire.de, while continuing to offer language-specific navigation on the main site.
Accessibility:
The third part of the website upgrade is search and user accessibility. Wehrmeister adds: "as part of our continuous SEO efforts, we've updated the way we tag content with page titles and keywords, to make them more visible to search engines; we also switched to a unified URL structure that helps search engines identify unique content and allows more accurate traffic measurement."
Additional accessibility changes include simplifying the website code to allow faster loading times, and optimizing the Business Wire website for the most recent versions of browsers such as Internet Explorer, Firefox, and Safari. The accessibility upgrades are expected to improve search visibility of press releases submitted via Business Wire, and provide a better user experience for visitors on BusinessWire.com.
Finally, the redesign included new sharing features on the BusinessWire.com press release pages. A new short permalink makes linking to BW content easier. New sharing options to save content on Google and Yahoo! Bookmarks join the bookmarking links Business Wire previously introduced to social news and bookmarking sites such Digg and Del.icio.us.
Business Wire Website Upgrade Highlights:
Multimedia:
-- New full multimedia gallery on the press release page to allow greater exposure to all multimedia assets, which can increase asset views as well as media and blogsphere coverage.
-- Web2.0-style navigation that allows each user group to quickly and easily find the kind of multimedia formats and options they need.
-- New Business Wire branded video player that offers better user experience, sharing options, and additional measurement.
Redesign: cleaner design and more effective use of space.
Content Reorganization:
-- Organized content in a way that is more closely aligned with the way our users are looking for it.
-- Highlighted key offerings on the home page to help new users better understand Business Wire's services and website features.
Search and User Visibility:
-- Improved tagging and labeling of Business Wire content to make it more easily visible to search engines.
-- Simpler and leaner page structure that reduces page loading time.
-- Unified URL structure that helps search engines categorize content and enables easier traffic measurement.
-- Optimized site for new browsers on the market.
New press release sharing options:
-- New permalink makes linking to BW content easier.
-- Additional bookmarking links for Google and Yahoo! Bookmarks.
More information on Business Wire products and services, as well as additional content from Business Wire, is available on the following sites:
BusinessWire.com
Business Wired Blog
Example Multimedia Releases: Green Family Foundation and Florida Football, Campbell's, GeneTree
Business Wire YouTube Channel
Press Release Multimedia on Drop.io
Business Wire Netvibes Universe
About Business Wire
Business Wire, a Berkshire Hathaway company, is utilized by thousands of member companies and organizations to transmit their full-text news releases, regulatory filings, photos and other multimedia content to journalists, news media, trade publications, institutional and individual investors, financial information services, regulatory authorities, Internet portals, information web sites, business-to-business decision-makers and consumers worldwide. With a news distribution network spanning 150 countries and 45 languages, Business Wire's multi-channel delivery network has access to dozens of international and national news agency networks throughout the Americas, Europe, Asia, the Middle East and Africa.
The Business Wire news network is powered by its patented NX high-speed data platform and supports XML, XHTML and XBRL code to deliver the most sophisticated news file to enhance news release interactivity, customization and search engine optimization. Business Wire has 31 bureaus in cities including New York, San Francisco, Los Angeles, Chicago, Boston, Miami, Paris, Frankfurt, London, Brussels, Tokyo, Toronto and Sydney with reciprocal offices throughout the world. Business Wire was founded in 1961. Cathy Baron Tamraz is president and CEO.