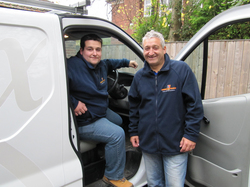 (PRWeb UK) June 12, 2010
Are you looking at buying a business in South London which is already fully up and running? An established franchise opportunity with Signs Express could be a much safer option than starting in business alone. In fact, there is currently a Signs Express business for sale in the South London area which could provide the ideal chance to own a profitable business.
Buying an existing business in London, and especially a resale franchise http://www.signsexpress.co.uk/franchise/resales.cfm, holds a number of benefits including the opportunity to potentially make money instantly. By taking on an already established business opportunity in South London, the new business owner will gain a distinct advantage as the business is already up and running. There are no headaches over finding a production unit to base the business, plus the centre is already fitted out with the required equipment and furniture; so no waiting around for suppliers and no need to waste time organising the layout, it's already been done. The staff are even already in place and fully trained, therefore cutting out the time recruiting in the London area and providing the business owner with the knowledge of the centre as it currently stands. This means that as soon as the franchise owner is in, he can start trading and continue generating profit from day one.
As well as the rewarding Signs Express location available in South London there are also additional opportunities in the Greater London area. What with being part of the London Plan and the forthcoming Olympics, the London area is currently experiencing vibrant growth amongst its existing business community which increases scope for business in London in the future. The existing business which has been operational since 1996, has an excellent reputation amongst its established customer base and receives a substantial amount of repeat business within the South London area.
With over 80 centres nationwide and 20 years of experience under its belt, Signs Express http://www.signsexpress.co.uk/franchise business opportunities are growing as more franchisees reach retirement. There are many business owners who joined Signs Express having worked for years in various industries and who were looking for security as they reach retirement age. This means that now, some years later, they have reached their potential and are set to retire and enjoy the money that they have earned through their own hard work over the years.
The key to starting in business and in particular buying an existing franchise in London is its distribution channel. The franchise has built up an enviable customer base as a result of time and experience, meaning as a business for sale, the customers would already be there and at the new business owner's disposal. The same goes for suppliers. Signs Express has its own preferred list of suppliers and in a for sale situation these relationships have already been made with the centre and therefore any problems already ironed out.
As a management franchise, prospective franchisees require no industry experience as full training is provided. Your skills will be based on your own management and sales experience and your ability to lead a team. Ongoing support http://www.signsexpress.co.uk/franchise/support.cfm is available from sales and marketing, accounts, IT, HR, operations and technical as well as initial training to learn more about technical aspects and business techniques.
For more franchise information on the Signs Express South London business opportunity or in any other franchise locations across the UK, please contact us on 0800 731 2255 or visit http://www.signsexpress.co.uk/franchise.
# # #