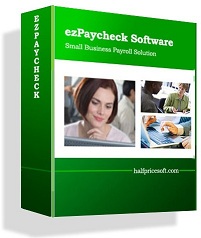 We hope ezPaycheck payroll software can help employers focus their core business without worrying about the current payroll tax rate
Los Angeles, CA (PRWEB) February 14, 2013
Feb 15 is the deadline that IRS required all employers to implement the new 2013 withholding tables and new Social Security tax rate. Payroll software developer Halfpricesoft.com sent email notice today to inform all ezPaycheck small business payroll software users to update income tax tables in time.
For Year 2013, the employee tax rate for social security increases to 6.2%. The social security wage base limit increases to $113,700. And many states have also published the new state tax rate. halfpricesoft.com released the new edition of ezPaycheck software, which implemented the Year 2013 Social Security tax increase, revised federal and state tax tables.
"Payroll processing is important for any business. However keeping up with the current tax rate is not an easy jobs for many small businesses, " said Halfpricesoft.com founder Dr. Ge. "We hope ezPaycheck payroll software can help employers focus their core business without worrying about the current payroll tax rate."
Designed with simplicity in mind, ezPaycheck payroll software speeds up and automates the payroll tax calculation, paycheck printing and tax reporting for small businesses and non-profits. The new improved 2013 version interface is so intuitive and user-friendly that first time users without an accounting background can start doing payroll immediately after installation. There is no long learning curve like there usually is with financial software.
Small business owners who are seeking productivity-booting solution are welcome to start the test drive of ezPaycheck payroll software without charge or obligation for up to 30 days at http://www.halfpricesoft.com/payroll_software_download.asp.
Once the business owner is satisfied that ezPaycheck 2013 is the right solution for their business, they simply purchase a license key - just $89 per installation - to unlock the paycheck printing feature. Customers can have ezPaycheck 2013 completely set up with their own payroll data and run payroll tests before purchasing the license key - so they can be absolutely certain that ezPaycheck 2010 meets their needs.
The main features include:

Prints payroll checks on blank computer checks or preprinted checks.
Automatically calculates Federal Withholding Tax, Social Security, Medicare Tax and Employer Unemployment Taxes.
-Includes built-in tax tables for all 50 states and the District of Columbia.
Creates and maintains payrolls for multiple companies, and does it simultaneously.
Supports Daily, Weekly, Biweekly, Semi-monthly and Monthly payroll periods. Features Report Functions, Print Functions, and Pay Stub Functions.
30 day free trial. No registration required and absolutely no obligation.
Keeping up with the current tax rate should not be a headache for small businesses. start the 30-day free test drive of ezPaycheck payroll software, visit http://www.halfpricesoft.com/index.asp
About Halfpricesoft.com
Halfpricesoft.com is a leading provider of small business software, including payroll software, employee attendance tracking software, check printing software, W2, software, 1099 software, and barcode generating software. Today Software from halfpricesoft.com is trusted by thousands of users and help small business owners simplify their payroll processing and business management.