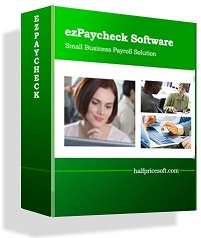 This new feature of ezPaycheck 2013 is ideal for any business in which employees rotate shifts or work on different projects day to day
Miami, FL (PRWEB) January 09, 2013
Payroll tax software developer Halfpricesoft.com has rolled out the new 2013 edition of ezPaycheck payroll software for small businesses. Available at halfpricsoft.com, the latest version of this popular and easy-to-use software includes updated tax information for 2013 and increased flexibility for assigning multiple pay rates for each employee.
This feature is ideal for businesses that pay differing rates for different shifts or for different assignments or projects. For example, if an employee works a combination of shifts at different pay rates during a pay period, ezPaycheck 2013 easily calculates payroll for that employee.
"This new feature of ezPaycheck 2013 is ideal for any business in which employees rotate shifts or work on different projects day to day," said Halfpricesoft.com founder Dr. Ge. "Security firms, temporary employment firms, contractors with multiple jobs going at the same time, and manufacturers with multiple product lines and rotating shifts or employees are just some of the kinds of businesses that can get a lot of mileage out of this new feature while saving a great deal of time and money on payroll tasks."
Priced at just $89 per installation for new users, ezPaycheck payroll software is affordable for any size business. Designed for ease of use by business owners and managers, ezPaycheck saves time and expenses while increasing accuracy when running payroll. The 2013 edition of ezPaycheck will be available to current users of ezPaycheck 2012 for only $59 when it is released.
For a limited time, Halfpricesoft.com is offering a combo pack that includes both the 2012 and 2013 editions is available for just $90. New customers can start taking advantage of the many time-saving features in ezPaycheck payroll software for 2012 year-end payroll activities and be up and running with ezPaycheck in 2013.
New users can test-drive the easy-to-use, flexible features of ezPaycheck payroll software at no cost at http://www.halfpricesoft.com/payroll_software_download.asp. The main features include:

Updated tax tables for all 50 states, Washington D.C., and federal taxes
Automatically calculates Federal Withholding Tax, Social Security, Medicare Tax and Employer Unemployment Taxes.
Print paychecks in three popular formats: check-in-middle, check-on-bottom or check-on-top
Print Forms W2, W3, 940 and 941
Mask employee Social Security Numbers on check stubs
Capability to handle special tax deduction needs -- ideal for churches and non-profits
Auto-fill data feature that makes payroll tasks faster
Supports daily, weekly, biweekly, semimonthly and monthly payroll periods. Features report functions, print functions, and pay stub functions.
For 2013, the employee tax rate for social security increases to 6.2%. The social security wage base limit increases to $113,700. IRS asks employers to start using the new social security rate as soon as possible in Year 2013 but not later than Feb 15, 2013
Priced at just $89 per installation, ($59 to renew) ezPaycheck payroll software is affordable for any size business. To start the free 30-day test drive today, please visit http://www.halfpricesoft.com/index.asp
About Halfpricesoft.com
ezPaycheck is developed and distributed by Halfpricesoft.com, a Louisville, Ky.-based firm committed to creating affordable and easy-to-use financial software for small businesses. Additional small-business payroll software titles available from Halfpricesoft.com include w2 1099 software, check printing software, employee time tracking software and ezACH deposit software.