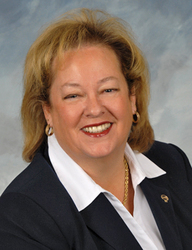 The Professional's Guide To Successful Networking.
Mesa, AZ (Vocus) May 20, 2010
LeTip International, the premier professional leads organization, announced today that CEO, Kim Marie Branch-Pettid, will speak at the Conference for African American Financial Professionals, being held at Clark Atlanta University in Atlanta, Georgia on June 3-4, 2010.
The conference, now in its fifth year, provides attendees with an opportunity to network with top financial advisors from across the industry and to acquire new sales ideas to propel their practice to the next level. The theme of this year's conference is "Empower Yourself: Commit to Your Education - Connect to Your Future."
Branch-Pettid, known for her inspiring, collaborative style, will present, "The Professional's Guide To Successful Networking." This seminar is an intense 3-hour learning experience which provides the tools and techniques networking professionals use to help increase business through strong, mutually rewarding relationships. Attendees will learn the four truths of networking, how to craft great thirty-second commercials, how to power partner, ways to become a networking resource, and much more.
"We've all heard about the explosion of social networking, however, when it comes to building lasting business relationships, there is no substitute for networking in person," said Branch-Pettid. "Social networking is a great tool, but meeting someone face-to-face, allows you to form a bond that cannot be duplicated online... and that is what LeTip is all about."
About Kim Marie Branch-Pettid
Kim Marie Branch-Pettid, President and CEO of LeTip International, is one of the most respected leaders in the business referral industry. Prior to joining the LeTip organization in 1999, Branch-Pettid spent twenty-five years in the banking industry which culminated with a proven track record in mergers, acquisitions and new business development.
About LeTip International, Inc.
LeTip International, Inc. is a structured, highly professional, business-to-business networking organization. Founded in 1978, LeTip set the standard in member-based referral networking. Members meet weekly to grow each other's businesses through the exchange of qualified leads, and are known for their professionalism, dedication, and loyalty to one another. For more information about LeTip, or to learn how to become a member, visit http://www.letip.com
###