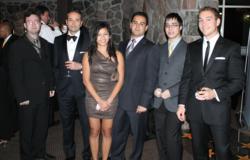 We're proud that Google & the Board of Trade seek us out as industry experts with something valuable to offer...
Toronto, ON (PRWEB) September 13, 2012
It's only September and this Toronto-based digital marketing agency has a fall speaking schedule that's packed. On September 17 President and CEO Justin Cook will be part of a discussion panel at the one-year anniversary celebration of the Canadian launch of Google Engage. It's a program that helps businesses master AdWords and other Google products, so their clients and customers can thrive online. Since Convurgency is a Google Adwords Certified Partner and proven experts at creatively using Google tools on behalf of their clients, Cook will share tips on how to maximize Google tools, and discuss emerging trends in digital marketing and online branding.
On October 9, Cook will also be a keynote speaker at the upcoming Small Medium Business (SMB) Exchange at TBOT. It is billed as an event addressing the unique needs of SMB's and Cook will be talking business development and Marketing ROI, drawing on his company's success in helping clients get measurable results from their rising Internet marketing budgets.
"Both TBOT and Google Engage have helped us connect to other businesses in the industry and grow our business using leading-edge technology," says Aaron Mogadam, Convurgency's Managing Director. "We're thrilled to have the opportunity to give back to both organizations while helping other small and medium businesses grow and thrive."
"We've learned so much by working closely with these two organizations," adds Cook. "We're very proud that they like what we're doing, notice how we're growing, and seek us out as industry experts with something valuable to offer other growing businesses."
As the founding partners of Convurgency Inc., Mogadam and Cook will be on hand at both events and available to share their take on successfully growing a small business in the digital world. The Toronto Board of Trade SMB Exchange is hosted at the Downtown Centre in Toronto on Tuesday, October 9, 2012, 7:30 AM.- 4:30 PM. The Google Engage One Year Anniversary takes place at the Arta Gallery in Toronto on September 17, 2012.
About Convurgency Inc.
Convurgency Inc. produces measurable results for marketing budgets. Whether it's creative, yet pragmatic site design, advanced SEO, targeted social media, or intelligent online reputation management, Convurgency Inc. builds online strategies that produce better business results. If it's online, Convurgency Inc. delivers it. http://www.convurgency.com.
##
Contact Information:
Justin Cook, President
Convurgency Inc.
189 King St. E., Suite 200, Toronto ON, M5A 1J5
416.800.1681
http://www.convurgency.com