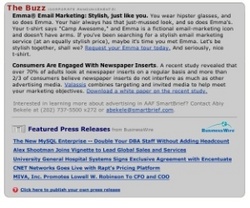 Business Wire constantly works to offer the most effective visibility for our members
NEW YORK (PRWEB) August 22, 2007
Business Wire, the world's leading disseminator of commercial news, announced today its joint-offering with custom publisher SmartBrief to include Business Wire members' press releases in SmartBrief's targeted industry email newsletters.
Business Wire members will have direct access to desktops of executives and decision-makers in 12 different industries, including wireless communications, telecom, consumer electronics, health, bio-technology, retail, insurance, and more. SmartBrief newsletters are co-branded with leading trade associations and professional societies, and are distributed for free up to five days a week to thousands of key position-holders in targeted industries. Business Wire members will also enjoy additional measurement reports detailing the number of executives who viewed their press releases via SmartBrief, as well as their position titles.
"Business Wire constantly works to offer the most effective visibility for our members" says Cathy Baron Tamraz, Business Wire CEO. "We believe the SmartBrief partnership is another great example of how we continuously improve our gold-standard in online distribution."
According to Chris McNeilly, Vice President of Technology at SmartBrief, "The partnership with Business Wire will enable SmartBrief to fulfill the many requests we've received to allow companies to directly reach out to leaders in their industry with their B2B message, while maintaining the quality of the SmartBrief publications."
The targeted newsletters include:
-- BIO (Biotechnology Industry Organization) - Designed for biotechnology industry professionals, BIO is a daily e-mail newsletter.
-- American Academy of Nurse Practitioners (AANP)- Designed for nurse practitioners and health care professionals.
-- Consumer Electronics Association (CEA) - Designed for consumer electronics industry professionals.
-- CTIA - The Wireless Association - Designed for those with an interest in wireless telecommunications.
-- eHealth (Health IT) - Designed for health care professionals interested in information technology.
-- Food & Drug Law Institute (FDLI)- Designed for professionals involved in the food and drug industry.
-- International Council of Shopping Centers (ICSC) - Designed for shopping center executives.
-- National Restaurant Association - Designed for executives in the restaurant and food service industry.
-- National Retail Federation (NRF) - Designed for merchant retail executives.
-- Property Casualty Insurers Association of America (PCI) - Designed for property casualty insurers.
-- Securities Industry and Financial Markets (SIFMA) - Designed for investment bankers, broker-dealers, and mutual fund professionals.
-- USTelecom - Designed for telecommunications executives.
Releases in the SmartBrief circuit will be sent in the newsletter of the client's choice, reaching that industry's movers and shakers.
About Business Wire
Business Wire, a Berkshire Hathaway company, is utilized by thousands of member companies and organizations to transmit their full-text news releases, regulatory filings, photos and other multimedia content to journalists, news media, trade publications, institutional and individual investors, financial information services, regulatory authorities, Internet portals, information web sites, business-to-business decision-makers and consumers worldwide. With a news distribution network spanning 150 countries and 45 languages, Business Wire's multi-channel delivery network has access to some 60 international and national news agency networks throughout the Americas, Europe, Asia, the Middle East and Africa.
The Business Wire news network is powered by its patented NX high-speed data platform and supports XML, XHTML and XBRL code to deliver the most sophisticated news file to enhance news release interactivity, customization and search engine optimization. Business Wire has 30 bureaus in cities including New York, San Francisco, Los Angeles, Chicago, Boston, Miami, Paris, Frankfurt, London, Brussels, Tokyo and Sydney with reciprocal offices throughout the world. Business Wire was founded in 1961 by Chairman Lorry I. Lokey, veteran journalist and public relations executive. Cathy Baron Tamraz is president and CEO.
About SmartBrief
SmartBrief publishes 55 co-branded, customized email newsletters in partnership with leading trade associations, professional societies and corporations. More than one million professionals in 18 industries rely on SmartBrief every day to save them time and keep them informed with essential industry news and more.