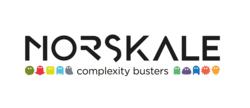 Our solution focuses on what is important: great user experience and simplicity. It provides all the functionalities a customer needs...
London, UK (PRWEB) January 30, 2013
Norskale Ltd. is pleased to announce the release of the new version of its enterprise-grade User Environment Management (UEM) solution known as VUEM. The London-based software firm is also providing free access to CitrixTools.net for XenApp 6.5.
VUEM version 2.0 offers a number of important enhancements, giving organizations an even better solution for managing the user environment. The latest edition of the software includes widely-anticipated features and improvements, such as new architecture, profile optimization, a maintenance mode and clamping. VUEM v2.0 is an upgrade to VUEM v1.6, which was released March 2012. "Our solution focuses on what is important: great user experience and simplicity," said Norskale Chief Executive Officer, Olivier Marschalik. "It provides all the functionalities a customer needs in a very intuitive way, and it only cost $38 per user at list price."
In addition to being extremely intuitive and economical, VUEM facilitates full user workspace management without Scripts/GPO/GPP. The software can be completely installed and configured in just a few days—even in the most complex of environments. It also allows organizations to easily manage highly flexible user workspaces, reducing project and day-to-day management costs. "Our technology is visibly delivering much better results than similar products for a fraction of the cost," Marschalik said.
Other remarkable features and benefits of VUEM include:

10-15 second login time for all physical and virtual desktops (Windows 7, XP, XenDesktop, View,…), as well as XenApp and RDS
Instant apps reactivity
Very simple to manage on a day-to-day basis, only requires one day of training
Completely reversible in an instant
Reduced support cost thru self-services for users (printers, support application access, etc.)
20-25% more users per servers
Norskale's announcement regarding CitrixTools.net represents a major development that will impact a significant number of users. CitrixTools.net, which has been providing simple and effective point software solutions to system administrators for years, is employed by more than 6,000 organizations. Norskale Chief Technology Officer Pierre Marmignon explained: "Previously, access to the latest release required payment of a small fee. As Norskale grows, we are reinvesting a share of our revenue in community work and are now happy to announce that the latest CitrixTools for XenApp 6.5 are free of charge and can be downloaded at http://www.norskale.com."
As a recent entrant in the UEM market, Norskale is making impressive strides as a solutions provider for IT infrastructure automation. The company's founders are well-known industry veterans with a reputation for creating sensible solutions that produce great results. Their pragmatism serves as a guiding principle that has enabled the company to evolve into a serious contender in the infrastructure industry. VUEM is proving to be a welcome alternative in a market segment that has traditionally been restricted to complex solutions that are expensive to purchase, implement and manage.
For more information, please visit the company's official web site at http://www.norskale.com or email casper(at)norskale(dot)com.
About Norskale Ltd.
Norskale is a hot new startup in the UEM market. The company differentiates itself by bringing no-nonsense software solutions to the IT infrastructure industry. Norskale strives to offer tools that are powerful, simple and affordable, making them ideal for large and small environments alike. The company's VUEM product is making its mark in the marketplace. VUEM has been successfully deployed in numerous customers all across Europe and the United States with environments up to 20,000 users. Based in London, Norskale is currently active in the European market, with a focus on the United Kingdom and France. Beginning in March, the company will enhance its operation in the United States.
###