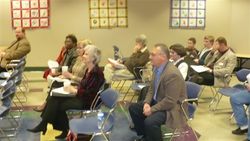 Stewardship is not just about your money __title__ STEWARDSHIP IS NOT JUST ABOUT YOUR MONEY]
Springfield, MO (PRWEB) June 3, 2008
Kingdom Business Journal (KBJ), was started with a vision 6 years ago to start a monthly printed publication. KBJ has grown into a community of 18 Christian leaders who have united in order to teach Kingdom of God principles of success and marketplace ministry. "Kingdom of God principles", refers to the principles taught from the Bible. KBJ will help students, young professionals, and business owners discover their God given talents, interests, and abilities and apply them in order to find their role in their local society.
The Kingdom Business Journal has launched a website at http://www.kingdombusinessjournal.com. The website will offer a free membership that will allow viewers to receive a weekly PDF format
journal, a KBJ Success Studies for the marketplace curriculum, a business tip of the week, and access to other practical resources. The KBJ will also offer memberships to become part of a community either with a self-help approach or a personalized consulting approach.
"Principles of Business" book series addresses the six most challenging areas of business: Leadership and Management, Sales, Marketing, Finances and Budgeting, Service, and Marketplace Ministry. In the "Principles of Business" series, each book will address a Kingdom Principle and apply them to these six areas of business challenge. The first book in the series, "Stewardship is not just about your money", will define "Stewardship" as the invitation to God's trust in you and one of His most impactual Kingdom Principles. Two key points made are: Stewardship is not just about your money and Stewardship is not just a physical responsibility, but also a spiritual one.
Many of the leaders involved with KBJ are currently Entrepreneurs running their own businesses. There are many different professions represented; therefore, they can offer practical and successful advice in many areas of business and life. One of the ways the KBJ offers help is with a FREE business assessment. The business assessment allows the KBJ staff to evaluate the business owner's position and offer practical steps to address the needs. Our experts will offer their talents and gifting as the moderator of the forum. For example, one of the experts runs a company offering Internet marketing. If a business owner is having challenges with marketing their website, they can ask their questions and receive advice from the expert as well as the forums community.
Some of the leaders involved with KBJ are from the educational or youth ministry professions. KBJ has a vision to reach out to the high school and college student looking for assistance in finding their God given talents and career path. One of the tools available from KBJ is a personality, career, and spiritual gifting test. This test will assist the student and their parents in making educational decisions.
The most important aspect of the KBJ is teaching these Kingdom of God principles in order to create business success and ministry opportunity in our businesses, schools, and government. Marketplace Ministry is not about using the bible at work to convert the unsaved. Marketplace Ministry's objective is to encourage the student, business person, worker at home, and homemaker to discover and assume their divine role of ministry in the marketplace of their society.
# # #