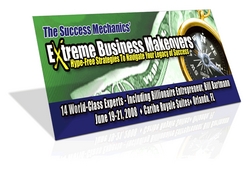 Anyone that's interested in jump-starting your business, this is the best opportunity I've seen.
Orlando, FL (PRWEB) May 28, 2008
The Success Mechanics (a division of Burg-Scott Communications, Inc.) today announces an essay/video contest to award a business makeover coaching package valued at $10,000. Contest entries are being accepted on or before June 9, 2008 and the winner will be announced at Extreme Business Makeovers 2008 on June 21, 2008.
In addition to Bill Bartmann, who Inc. Magazine refers to as the "Billionaire Nobody Knows" and Bob Burg, co-author of the national bestseller "The Go-Giver" (http://www.thegogiver.com) , Extreme Business Makeovers 2008 features 12 additional business authorities - each addressing separate, vital areas of sales and small business success.
2007 attendee, Charles Thomas described the event, saying, "Anyone that's interested in jump-starting your business, this is the best opportunity I've seen."
Christopher Guerriero, of AutomaticBestseller.com and one of the Extreme Business Makeovers' experts commented on last year's event stating, "[Extreme Business Makeovers] took my mind and the minds of the people in the audience to a different level because the quality of the experts they brought in and because of the quality of the content that they presented. This is truly the place to be if you want to build your business."
Thom Scott, President of The Success Mechanics, commented on the contest, saying, "Each of the experts involved in Extreme Business Makeovers have an intense desire to help entrepreneurs and sales professionals transform their businesses to become more profitable and fun. This contest will enable more individuals to experience this powerful seminar AND it will provide the winner with a hands-on, one-on-one coaching program to help them create the changes they desire as rapidly as possible."
To enter, contestants simply email a brief essay OR link to a YouTube.com or Viddler.com video clip that explains (1) what their business is, (2) how long they've been doing it, (3) how successful it's been and (4) why they believe that they would be the best candidate for an Extreme Business Makeovers Coaching Program. Essays should be between 250 and 750 words and videos should be 1-3 minutes in length. Contestants should email their entries and complete contact information on or before June 9th, 2008 to thom@thesuccessmechanics.com.
The first 25 entries will receive a 2 ticket voucher (valued at $297) for the three day Extreme Business Makeovers 2008 in Orlando, Florida. Entries will be narrowed down to the top 10 by expert judges and the winner will be selected by the audience on the final day of the event - June 21st, 2008. Contestants are not required to be present to win and no purchase is necessary to win.
Event sponsors for Extreme Business Makeovers include: Small Business Television (sbtv.com); Perfect Networker (perfectnetworker.com); United First Financial (livefreeandclear.com); CommercialMaker.com; Hulett Environmental Services (bugs.com); GetMotivation.com; Success Magazine (SuccessMagazine.com); Aflac Central Florida (myfloridacentral.org); Fast Pitch Networking (fastpitchnetworking.com) and eLearning Zoom (elearningzoom.com)
Extreme Business Makeovers 2008 is being held near Walt Disney World on June 19-21, 2008 at the Caribe Royale Orlando (http://www.cariberoyale.com). For more information or to register to hear free event previews with the speakers, visit http://www.ExtremeBusinessMakeovers.com.
The world-class team of business experts and topics include:

Michael Angier - Real Goals and Priorities - Making Things Happen
Simon T. Bailey - Discovering and Releasing Your Brilliance
Bill Bartmann - Becoming an Extraordinary Entrepreneur
Bob Burg - Go-Give Your Way To Never-Ending Prospects
Stephanie Frank - Win in Business Without Losing Your Mind
Christopher Guerriero - Becoming An Instant Authority
Josh Hinds - Great Seminar - Now What?
Dr. Don Kennedy - 5 am And Already Behind
Donna Krech - Never Ending Motivation
Dave Lakhani - Beat Low-Price Competitors ... In Any Economy
Greg Rice - Overcoming Challenges by Thinking Big
Bo Short - Attracting and Maximizing Profitable Teams
Jimmy Vee and Travis Miller - Getting Business To Come To You
About The Success Mechanics:
The Success Mechanics is a division of Burg-Scott Communications, Inc. - a training company that is dedicated to providing immediately applicable, values-based tools and information to help entrepreneurs, small business owners and sales organizations and independent sales professionals improve both their profits and their quality of life.
Principals of Burg-Scott Communications include national bestselling author and critically acclaimed speaker Bob Burg and former public company top marketing executive and award-winning creative director, Thom Scott (http://www.coachthom.com).
All Extreme Business Makeovers speakers are available for interview. Contact thom @ thesuccessmechanics.com to arrange.
Press passes are available for Extreme Business Makeovers 2008. Visit Extreme Business Makeovers for details.
###