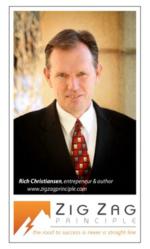 Provo, UT (PRWEB) August 26, 2011
Many of the principles and business strategies Steve Jobs inherently knew have been packaged into a new book titled The Zig Zag Principle by Rich Christiansen. In addition to providing a proven framework for building viable businesses, The Zig Zag Principle offers values-based guidance to help entrepreneurs remain focused on activities that matter most.
Perhaps the biggest lesson Jobs' career teaches aspiring businessmen, entrepreneurs and anyone with a dream is that no matter how important your career or goal, you cannot replace your health, trust relationships or family. When Jobs' health starts to slip, he takes time off and focuses on getting better. Instead of risking literally working himself to death, Jobs remembers that his health is more important than his career.
Steve Jobs learned these principles throughout his life, and he was the key player in building Apple into what it is now. The Zig Zag Principle teaches these and other vital elements of safe and successful goal-setting so anyone can improve their career. The book's author Rich Christiansen has built 11 multimillion-dollar businesses, each beginning almost as humbly as Apple did in Jobs' parents' garage. The Zig Zag Principle, available October 4, will guide the most humble entrepreneur and the highest-ranking CEO to a better way to succeed in their careers and lives.
The Zig Zag Principle is published by McGraw-Hill and available for pre-order at http://zigzagprinciple.com/order-now-advance/
About Rich Christiansen Rich Christiansen describes himself as "a perfectly good technology executive turned entrepreneur" having founded or co-founded 32 businesses, each with less than $10,000. Before becoming an entrepreneur, Rich was known for his successes at Mitsubishi Electric, About.com and Novell. He is the co-author and publisher of Bootstrap Business: A Step-by-Step Business Survival Guide (2009).
###