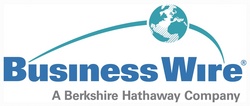 Business Wire is committed to significantly expanding its presence in the Asia Pacific region, an area that is pivotal to the company's sustained growth and business development
TAIPEI, Taiwan & NEW YORK (PRWEB) March 17, 2008
CNA, Taiwan's largest and most influential information provider, elected to enter into a direct reciprocal agreement with Business Wire. Previously, the two services worked together via an intermediary. CNA's distribution platform includes yahoo.com.tw and cnabc.com among other prominent websites, all significant mainstream media, and a specialized service geared to Chinese expatriates worldwide.
Business Wire will continue to be the international newswire of choice for the 800 companies listed on the Taiwan Stock Exchange (TSE), based on a three-way marketing relationship involving Business Wire, TSE and CNA. Business Wire's comprehensive reach to global consumer and capital markets is certain to appeal to Taiwan's export-dependent issuers, who are keen to communicate with worldwide audiences.
The marketing arrangement offers listed companies a complete, cost-effective, and seamless regulatory disclosure and marketing communications solution. CNA is a disclosure service in Taiwan, and Business Wire provides a proven and respected gateway for local companies to reach international investors and global markets.
"Business Wire is committed to significantly expanding its presence in the Asia Pacific region, an area that is pivotal to the company's sustained growth and business development," said Cathy Baron Tamraz, president and CEO. "Our CNA alliance is critical to our future goals, and promises to only increase in importance as the need for global communications continues to expand."
"The new platform is expected to facilitate local companies' globalization drive and enhance their overall image and popularity in the world arena," said Chih Tsung Liu, president of CNA, adding that the CNA-TSE-Business Wire collaboration will not only help upgrade Taiwan's international competitiveness but also declare its determination to globalize its capital market and increase the transparency of related information.
About Business Wire
Business Wire, a Berkshire Hathaway company, is utilized by thousands of member companies and organizations to transmit their full-text news releases, regulatory filings, photos and other multimedia content to journalists, news media, trade publications, institutional and individual investors, financial information services, regulatory authorities, Internet portals, information web sites, business-to-business decision-makers and consumers worldwide. With a news distribution network spanning 150 countries and 45 languages, Business Wire's multi-channel delivery network has access to dozens of international and national news agency networks throughout the Americas, Europe, Asia, the Middle East and Africa.
The Business Wire news network is powered by its patented NX high-speed data platform and supports XML, XHTML and XBRL code to deliver the most sophisticated news file to enhance news release interactivity, customization and search engine optimization. Business Wire has 31 bureaus in cities including New York, San Francisco, Los Angeles, Chicago, Boston, Miami, Paris, Frankfurt, London, Brussels, Tokyo, Toronto and Sydney with reciprocal offices throughout the world. Business Wire was founded in 1961.
About the Central News Agency:
Founded in Guangzhou (Canton), southern China on April 1, 1924, The Central News Agency (CNA) has been in operation longer than any other media outlet in the country and is Taiwan's largest national news agency. Headquartered in Taiwan since 1949, CNA provides about 1,500 items of fair, fast and comprehensive local and international news in Chinese, English and Spanish every day to the media, helping to promote an open information society as well as effectively preserving the multifaceted and balanced media environment in Taiwan.
CNA's coverage spans the globe with correspondents in every city and county in Taiwan and in 35 cities overseas. CNA correspondents file an average of 1,500 news items every day, covering politics, economics, defense, diplomacy, military affairs, justice, and international and cross-Taiwan Strait affairs, making it the largest news provider in Taiwan.
In addition to articles, CNA offers radio, television, in-flight services and mobile phone operators with news content and images from around the world.